4 mile run around beautiful Lake Ronkonkoma. Hosted by the Ronkonkoma Rotary Club. Proceeds benefit the LT. Michael Murphy Foundation - Special Operations Warrior Foundation - Lone Survivor Foundation - Rotary Foundation and Rotary Charities.
2015 race timing will be updated with the addition of timing mats provided by Start2Finish
Post Race BBQ hosted and provided by Texas Roadhouse of Deer Park to all registered runners
Race T-shirt only to pre-registered runners Registered by Midnight May 31,2015
Race Donation
Pre-registration January 1,2015 - midnight May 31,2015 $30.00 with Race Shirt
Pre-Registration Between June 1,2015 and Pre Registration Close June 24,2015 - $30.00 No Race T-Shirt
Registration Closes on June 24,2015 at 6:00 PM
Walk up Registration On Thursday June 25,2015 Pre Race Pasta Dinner, walk up Registration on Friday June 26,2015 Race Packet Pickup and Saturday June 27,2015 Day Of Registration $35.00 NO Race T-SHIRT
Follow us on Twitter at RunaroundLake for up to the minute info, including parking info on race day
Lake Ronkonkoma
Lake Ronkonkoma, NY US 11779
If you have any questions about this race, click the button below.
Questions?
Overall Winners Male/ Female 1,2,3
Age cat. male/ female 1,2,3 14 and under to 85+ in 5 year increments
Race Walker (unjudged) male/ female 1,2.3
Teams 1,2,3 Open ( min 4 runners)
Lance Hugelmeyer Cup -Fastest Ronkonkoma Male/Female
Clydesdale/Athena 1,2,3 men 185-199, 200+, women 145-159, 160+
2015 Navy SEAL LT Michael P. Murphy 4 Mile Run Around the Lake Honorary Chairman Vice Admiral Joseph Maguire (Ret)
2015 Navy SEAL LT Michael P. Murphy 4 Mile Run Around the LakeHonorary Chairman Vice Admiral Joseph Maguire (Ret)
Joe Maguire became the President and CEO of The Special Operations Warrior Foundation in September 2013, after having served on the Foundation's Board of Directors for the previous three years.
A career Naval Special Warfare Officer (SEAL), Joe retired from the United States Navy in 2010 after 36 years in uniform, having commanded at every level to include the Naval Special Warfare Command and the Navy Component of the United States Special Operations Command. Joe was the Commanding Officer of the Navy SEALs during Operation RED WINGS.
His last assignment in government was Deputy Director for Strategic Operational Planning in the National Counterterrorism Center, Washington, DC, where he was a member of the National Security Council's Counterterrorism Security Group.
Joe serves on the Advisory Board of Operation Helping Hand, whose mission is to help the families of wounded and injured warriors during their hospital stay in Tampa Bay.
Additionally, he is a military advisor to the Board of Directors of Athletes' Performance Institute, which honored him by establishing a scholarship in his name for wounded Special Operations Forces at The Eagle Fund of the Andrews Institute Foundation. The Eagle Fund's mission is to provide our wounded warriors with the highest quality care possible.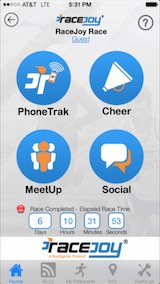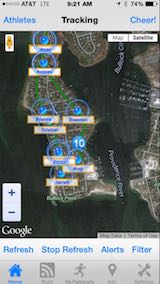 Live Tracking and Progress Alerts on Race Day!
Make sure you download the RaceJoy mobile app for live phone tracking at the Navy SEAL LT Michael Murphy- 4 Mile Run Around the Lake.
Carry your phone and use RaceJoy to add to your race experience with these key features:
GPS Progress Alerts
Receive GPS-based progress alerts at mile points on the course for current pace and estimated finish time.
Post to your Facebook and Twitter walls.
Have friends and family track your performance.
Live GPS Tracking
Supporting spectators can track your blue dot moving along the course from home or at the race site.
NearMe proximity alerts notify spectators when you are drawing near.
Find each other using RaceJoy's MeetUp tool.
Send-a-Cheer
Receive fun, motivational audio cheers from your supporting fans.
Start sending cheers to others doing the race at any time.
Note:
- 99 cents per race upgrade fee for both participant and spectator
- Participant must carry phone
- No official race timing information is provided for this race in RaceJoy