Event
Time
Price
Details
Half Marathon

Time

7:30AM EDT

Price

$50

Price increases May 29, 2017 at 11:59pm EDT
The Lake Cumberland Half is a 13.1 mile race to benefit Habitat for Humanity of Pulaski County Kentucky. This year we are excited to announce that this is a point to point race. The race will begin in Bronston, Ky on the Houseboat Capital of the World Bridge and then you will run through part of Burnside, Ferguson and back into Somerset. The race will end at Somerset Community College, we will provide transportation from each point.
Date: Saturday, September 9, 2017
Start Line
Bronston, Ky - Hwy 90 - Houseboat Capital Of The World Bridge
Finish Line:
Somerset Community College, 808 Monticello St, Somerset, KY (Pulaski County KY)
Parking in SCC Meece Parking Lot
Start Times: Half-Marathon: 7:30 A.M.
Pick up race packets Friday night at the pre-race Pasta Dinner, which will be held at Somerset Community College, 808 Monticello St, Somerset, KY from 5 P.M.-7 P.M.or beginning at 6:00 A.M. on day of race.
Parking:
Parking is available at the start of the race or at the college which is the end of the race. Transportation will be provided between the start & finish line.
Awards


Top 3 Overall Male & Female
Top 3 in Age GroupsAge Divisions
The age divisions will be as follows – 10 & Under; 11-14; 15-19; 20-29; 30-39; 40-49; 50-59; 60-69; and 70 and Over.
Team Division:


Teams must consist of at least 5 people. You must be registered for the team before the start of the race.
All half-marathon participants receive a Long-sleeve Technical T-Shirt* and Finisher's Medal
Registration fee is non-refundable; we will run the race rain or shine.
IMPORTANT INFORMATION ABOUT RACE DAY
*Registration and Packet Pick-up at Somerset Community College on Friday and Saturday only (no registration or Packet Pick-Up at Starting Line)
*No Registration, Parking, or Packet Pick-Up at Starting Line
*Transportation provided from Finish Line (Somerset Community College) to Starting Line; Last Bus leaves SCC at 7:00am.
*Parking available at SCC, No Parking available at Starting Line
*No dogs/animals allowed on Course
*It is an open course
*No headphones and/or earbuds allowed
*Award Ceremony will begin at 11:00am at SCC
*3 hours 30 minutes Time Limit
If you have any questions about this race, click the button below.
Questions?
Somerset, KY
Somerset, KY US 42501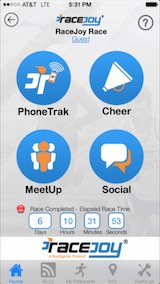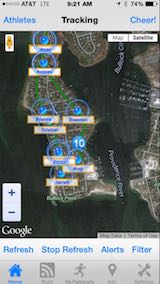 Free Live Tracking and Progress Alerts on Race Day!
(Race organizers are providing this as an included service.)
Make sure you download the RaceJoy mobile app for live phone tracking at The Lake Cumberland Half.
Carry your phone and use RaceJoy to add to your race experience with these key features:
GPS Progress Alerts
Receive GPS-based progress alerts at mile points on the course for current pace and estimated finish time.
Post to your Facebook and Twitter walls.
Have friends and family track your performance.
Live GPS Tracking
Supporting spectators can track your blue dot moving along the course from home or at the race site.
NearMe proximity alerts notify spectators when you are drawing near.
Find each other using RaceJoy's MeetUp tool.
Send-a-Cheer
Receive fun, motivational audio cheers from your supporting fans.
Start sending cheers to others doing the race at any time.
The Lake Cumberland Half is sponsoring RaceJoy to provide participants and spectators these features for free (normally a 99 cents upgrade fee for both the participant and spectator).
Note:
- Participant must carry phone
- No official race timing information is provided for this race in RaceJoy