Online registration is now closed but you can register Day of Race starting at 8am.
Voted "Best July Race" by Run Oregon in 2013! On the 4th of July in Molalla, thousands of people from all over the region will line our street to watch the parade. The Freedom 5K is a 3.1 mile race that mirrors the entire parade route just before the parade starts. This race is designed for both the serious athlete seeking a PR, as well as individuals and families just looking for a fun experience on the 4th of July. Aside from the thrill of having thousands of people to cheer you on as you accomplish your goal, the race also takes you through historic downtown Molalla, and provides a great way to see our community. Race is capped at 700 racers.
Event
Time
Price
Details
5K

Time

9:20AM PDT

N/A
East Fifth Street and Eckerd Ave
Molalla, OR US 97038
If you have any questions about this race, click the button below.
Questions?
The 5k will be professionally chip timed by Huber Timing. The timing chip will be attached to the race bib. The timing chip is disposable and does not need to be returned after the race. The race bib must be worn on your chest or front of shorts and visible at all times.
Results will be available at the finish on kiosks and posted live to http://www.hubertiming.com/results/2016Freedom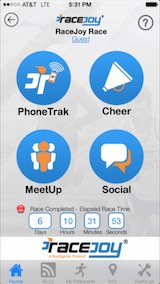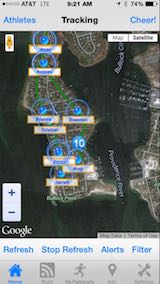 Live Tracking and Progress Alerts on Race Day!
Make sure you download the RaceJoy mobile app for live phone tracking at the Freedom 5k.
Carry your phone and use RaceJoy to add to your race experience with these key features:
GPS Progress Alerts
Receive GPS-based progress alerts at mile points on the course for current pace and estimated finish time.
Post to your Facebook and Twitter walls.
Have friends and family track your performance.
Live GPS Tracking
Supporting spectators can track your blue dot moving along the course from home or at the race site.
NearMe proximity alerts notify spectators when you are drawing near.
Find each other using RaceJoy's MeetUp tool.
Send-a-Cheer
Receive fun, motivational audio cheers from your supporting fans.
Start sending cheers to others doing the race at any time.
Note:
- 99 cents per race upgrade fee for both participant and spectator
- Participant must carry phone
- No official race timing information is provided for this race in RaceJoy

Like this page and invite your friends on Facebook.