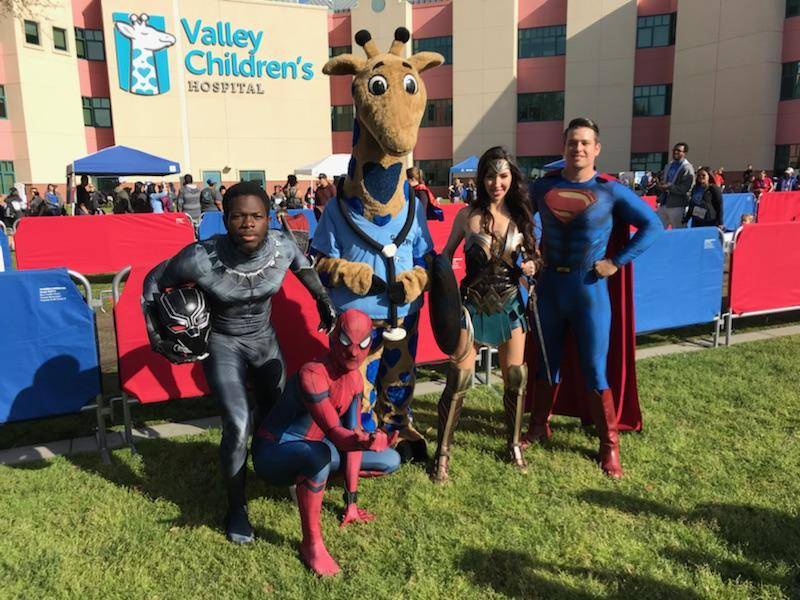 1. What does the race packet include?
Race shirt for registered adults
George's Pass Cape for children 12 and under
Commemorative 5th Annual Run with the Heroes Medal for each registered participant
For example: 2 parents registered themselves and their 3 children (12 and under) for the event. They will receive:
2 race shirts, 3 capes and 5 medals. The "I RUN FOR" certificate can be downloaded and printed at home from this website.  
2. What will the drive-thru pick-up look like?    <<<<NEW INFO>>>>
On Friday April 30, special arrangements will be made. Please email sreyes@valleychildrens.org to set-up a time that works best for you between noon-6:00pm You will be instructed to park in Lot D in front of the Surgery entrance. One of our George's Pass team members will bring your packet to your car. 
On Saturday May 1, from 9:00 AM to 2:00 PM, drive-thru pick up will be located in the parking lot west of the hospital on Randall Way (before you get to the Ronald McDonald House). Follow the signage and yellow balloons. Volunteers will be present to guide you to a drive-thru lane based on your last name. Masks are mandatory while picking your packet, please do not exit your car.  Bring your photo ID. 
Superheroes will be present from 10:00 AM - noon.
3. The deadline to register if you want a shirt is 11:59 pm on Saturday, April 17th. Kids 12 and under get a free cape while supplies last.
Registration will remain open until April 30, if registering after 4/17 shirts are no longer available. 
4. Are kids free?  
Yes. Registration for kids 12 and under is FREE with a registered adult.  All kids must be registered to receive their FREE cape.  NO EXCEPTIONS. Sign up early to guarantee a cape while supplies last.
5. If I can't pick up my packet, can someone else pick it up for me?
Yes. The registered participant must email the following information no later than 4/29/2021by 5 pm
Name of registrant.
Name of authorized person to pick-up packet.
The person picking up the packet must bring a photo ID and a copy of the email.  This process is in place to avoid confusion.
6.  This event is virtual, how and when do I participate?
April is Autism Awareness Month. You can run on the treadmill, bike around the neighborhood or take a fitness class via ZOOM. You choose the activity. Complete your activity anytime from April 1-April 30. Show your support by sharing your activity and photos on social media using hashtags #runwiththeheroes #georgespass #valleychildrens
7.  Can I donate if I don't plan to participate in the virtual event? (you will not receive a race shirt, cape, or medal)
Yes. Click the "donate" button on the left hand side of our home page. All proceeds go to the George's Pass program. We appreciate any amount!