113 S. University Parks Dr.
Waco, TX US 76701
The Miracle Match Marathon Weekend
Saturday, January 21st: 5K, 1 mile and Miracle Match KIDS, Fire Truck Pull
Sunday, January 22nd: Marathon, 1/2 Marathon, 10K, Marathon Relay, Ultra Marathon
If you have any questions about this race, click the button below.
Questions?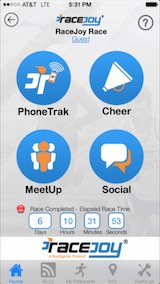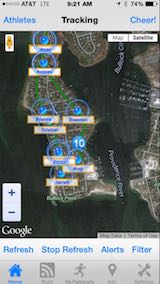 Free Live Tracking and Progress Alerts on Race Day!
(Race organizers are providing this as an included service.)
Make sure you download the RaceJoy mobile app for live phone tracking at the Miracle Match Marathon.
Carry your phone and use RaceJoy to add to your race experience with these key features:
GPS Progress Alerts
Receive GPS-based progress alerts at mile points on the course for current pace and estimated finish time.
Post to your Facebook and Twitter walls.
Have friends and family track your performance.
Live GPS Tracking
Supporting spectators can track your blue dot moving along the course from home or at the race site.
NearMe proximity alerts notify spectators when you are drawing near.
Find each other using RaceJoy's MeetUp tool.
Send-a-Cheer
Receive fun, motivational audio cheers from your supporting fans.
Start sending cheers to others doing the race at any time.
The Miracle Match Marathon is sponsoring RaceJoy to provide participants and spectators these features for free (normally a 99 cents upgrade fee for both the participant and spectator).
Note:
- Participant must carry phone
- No official race timing information is provided for this race in RaceJoy

The MMM 2017 Packet Pick Up is oh so conveneintly located right next to your start line - WOW!
Waco Convention Center, 100 Washington Ave, Waco Texas 76701
South and North Texas Rooms on the Lower Level.
4:00 p.m.- 7:00 p.m. Friday, January 20th
7:00 a.m. – 9:00 a.m. Saturday, January 21st -5K AND KIDS MARATHON PACKET PICK UP ONLY
10:00 a.m. -5:00 p.m. Saturday, January 21st – Packet Pick Up for Ultra, Marathon, Half, 10K, and Relay
6:00 a.m. -7:15 a.m. Sunday, January 22nd – Packet Pick Up for Ultra, Marathon, Half, 10K, and Relay
The beauty of a small race (how many times can we say that??) is that you may also pick up your packets race morning starting at 6:00 a.m.. You can even register your date or your Great Aunt Tilly on race day if the race has not closed.
At all race packet pickups, you will be required to initial a form confirming your personal information upon receiving your packet. Please take this well; we want to be sure you are who you are and do not end up a 12 year old female when in fact you can recall attending an AC/DC concert as a 47 year old male. This silly little procedure will make our awards distribution go soooo much smoother. Thank you for your cooperation!
In any case, arrive early if you plan to do these housekeeping activities on Race Day... We get a little stressed out.
Packet PickUp and Onsite Registration Information
Like this page and invite your friends on Facebook.