Event
Time
Price
Details
5 Mile Road Run

Time

5:00AM MST

-

7:00AM MST

Price

$40

Price increases June 29, 2017 at 11:59pm MST
201 S. Kinney Rd.
Tucson, AZ US 85735
Yes, we know it's hot out there in the summer. That's why we're inviting you to "Run With the Roosters," Kinney Rd. 5 Mile Run & Walk, at Old Tucson Studios at 5:05 a.m. (or first sign of light). As always, Everyone Runs brings you the most value for your money with our famous free Mexican breakfast, male & female sized cotton tank tops, free photos, slip 'n slide, sno-cones, and overall and 5-year age group rooster trophy awards! Run with the Roosters is an event you don't want to miss.
If you have any questions about this race, click the button below.
Questions?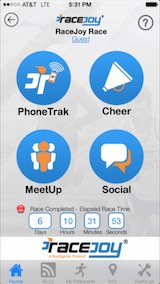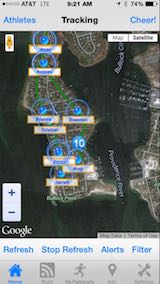 Free Live Tracking and Progress Alerts on Race Day!
(Race organizers are providing this as an included service.)
Make sure you download the RaceJoy mobile app for live phone tracking at the Run with the Roosters Kinney Road 5 Miler.
Carry your phone and use RaceJoy to add to your race experience with these key features:
GPS Progress Alerts
Receive GPS-based progress alerts at mile points on the course for current pace and estimated finish time.
Post to your Facebook and Twitter walls.
Have friends and family track your performance.
Live GPS Tracking
Supporting spectators can track your blue dot moving along the course from home or at the race site.
NearMe proximity alerts notify spectators when you are drawing near.
Find each other using RaceJoy's MeetUp tool.
Send-a-Cheer
Receive fun, motivational audio cheers from your supporting fans.
Start sending cheers to others doing the race at any time.
The Run with the Roosters Kinney Road 5 Miler is sponsoring RaceJoy to provide participants and spectators these features for free (normally a 99 cents upgrade fee for both the participant and spectator).
Note:
- Participant must carry phone
- No official race timing information is provided for this race in RaceJoy

Packet pick-up and race details
Packet pick-up
Unless, you live out-of-town, we strongly ask that you pick-up your race number at these times and locations: (please pay attention to exact location and times).
Friday, July 7, Fleet Feet at 7301 E. Tanque Verde, 3pm to 6pm
Saturday, July 8, Fleet Feet 7607 N. Oracle from 10am to 4pm.
Timing: This event will be chip timed event and you must also wear your bib on the front of your body. Chips will only be available on race morning. Walkers and jogging strollers should start in the back of the pack.
Registration will be available at packet pick-up and on race morning. Cash or check only.
Like this page and invite your friends on Facebook.