Event
Time
Price
Details
Marathon

Time

8:30AM EST

-

8:30PM EST

Price

$60

Price increases May 28, 2017 at 11:59pm EDT
Half Marathon

Time

8:30AM EST

-

8:30PM EST

Price

$45

Price increases May 28, 2017 at 11:59pm EDT
10k

Time

8:30AM EST

-

12:00PM EST

Price

$30

Price increases May 28, 2017 at 11:59pm EDT
Marathon Relay (4 Person)

Time

8:30AM EST

-

8:30PM EST

Price

$120

Price increases May 28, 2017 at 11:59pm EDT
Marathon Relay (2 Person)

Time

8:30AM EST

-

8:30PM EST

Price

$110

Registration ends May 28, 2017 at 11:59pm EDT
Stony Creek Metropark
4300 Main Park Drive
Utica, MI US 48316
Run in beautiful Stony Creek Metropark. Race in on paved roads and paved multi-use trail. Each race has a very small portion on grass.
Tech Shirt to all registered by October 23, 2017
(We will attempt to get shirts to those that register after the deadline - but cannot guarantee)
Finisher's Medals in all events
Age group awards 3 deep (Male and Female Separate)
Marathon: 16-19, 20-29, 30-39, 40-49, 50-59, 60-69, 70+
Half Marathon: 13-19, 20-29, 30-39, 40-49, 50-59, 60-69, 70+
10k: 8-13, 14-19, 20-29, 30-39, 40-49, 50-59, 60-69, 70+
Marathon Relay: top 3 teams in each division (Men / Women / Co-ed)
Awards to top 3 Overall in Marathon, Half-Marathon, and 10K:
Men
Women
Men's Masters (40+)
Women's Masters (40+)
Course Info / Time Limit / Bag Drop
Marathon & Marathon Relay
Most of first 4.5 miles on Asphault Road, 3 sections of 200meters on gravel/grass - remainder on asphault hike/bike path
Half Marathon
Most of first 4.5 miles on Asphault Road, 100meters gravel, 100meters grass, last 8 miles on paved hike/bike path
10k
Most of first 4.5 miles on Asphault road. Then 1.5 miles on asphault hike/bike path. last 1/4 mile is on gravel road and grass.
Path is open to the public
The paved asphault hike/bike path is open to the public during the event. Please be courteous to others using the trail. There are a few parking lot entrances that the course crosses (a couple might not have volunteers). Rarely would anyone be slowed by cars (especially in November).
Boston Certification: Not yet. Hoping to have it certified in 2016 - still working on it.
Time Limits
We will wait for everybody to finish, however all must be done by the time the park closes at 8:00pm. Everybody must be out of the park by 9:00pm. Please be advised that it is getting dark by 6:00pm in this area. The path does not go thru many heavily wooded areas but if you plan to be on the course after 6:00pm we advise that you carry lights.
Bag Drop
We will have a tent for Half and Full Marathoners to drop a bag for access during the race. This area will be located near the starting line (5.75, 12.75, 19+ mile marks). Please mark your bag with your race number, name, and telephone number. There will be an aid station near the drop tent but it will not be permanently staffed. Please do not put valuables in your bag and use this area for clothing and fuel only.
The parking lot is right next to the Start/Finish Area - there is no need for a bag check.


A Special Place for Special Kids!
If you have any questions about this race, click the button below.
Questions?
Stony Creek Metropark - Parking / Park Fees
Race Start and Finish is at Baypointe Beach within Stony Creek Metropark
There is a $7 daily fee for vehicles to enter the Metropark
The park OPENS at 7:00am on Race Day (Nobody is allowed in the park before 7 - even race staff)
Park maps, information, and yearly access fee pricing can be found on the link: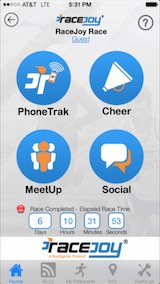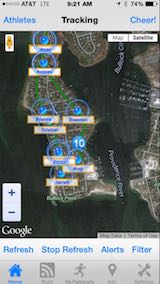 Free Live Tracking and Progress Alerts on Race Day!
(Race organizers are providing this as an included service.)
Make sure you download the RaceJoy mobile app for live phone tracking at the Stony Creek Marathon.
Carry your phone and use RaceJoy to add to your race experience with these key features:
GPS Progress Alerts
Receive GPS-based progress alerts at mile points on the course for current pace and estimated finish time.
Post to your Facebook and Twitter walls.
Have friends and family track your performance.
Live GPS Tracking
Supporting spectators can track your blue dot moving along the course from home or at the race site.
NearMe proximity alerts notify spectators when you are drawing near.
Find each other using RaceJoy's MeetUp tool.
Send-a-Cheer
Receive fun, motivational audio cheers from your supporting fans.
Start sending cheers to others doing the race at any time.
The Stony Creek Marathon is sponsoring RaceJoy to provide participants and spectators these features for free (normally a 99 cents upgrade fee for both the participant and spectator).
Note:
- Participant must carry phone
- No official race timing information is provided for this race in RaceJoy

Packet Pick-up / Race Day Registration
Packet Pick-up and Registration is at the Baypoint Beach Pavilion (Start/Finish) both days
Saturday, November 4, 2:00 - 4:00pm
Sunday, November 5 (Race Day) 7:20 - 8:10am
The park OPENS at 7:00am on Race Day (Nobody is allowed in the park before 7 - even race staff)
All Aid Stations will have Water and Gatorade (GU will be available at stations indicated
Marathon
1.25 / 3.0 / 4.77 / 5.75 / 7.75 / 8.75 (GU) / 10.5 / 11.5 / 12.75
14.75 / 15.75 (GU) / 17.40 / 18.5 / 19.70 / 20.5 / 21.5 / 23.6 (GU) / 24.5
Half Marathon
1.25 / 3.0 / 4.77 / 5.75 / 7.75 / 8.75 (GU) / 10.5 / 11.5 / 12.75


10k
1.25 / 3.0 / 4.77 / 5.75
Please be advised that aid station locations listed above are very good approximations. They are close but may not be the exact distances on race day.