Event
Time
Price
Details
Bobcat Trail Marathon

Time

8:00AM EDT

-

3:00PM EDT

Price

$85

Price increases August 31, 2017 at 11:59pm EDT
Bobcat Trail Half Marathon

Time

8:30AM EDT

-

3:00PM EDT

Price

$60

Price increases August 31, 2017 at 11:59pm EDT
Burr Oak Lodge
10220 Burr Oak Lodge Road
Glouster, OH US 45732
The Bobcat Trail Marathon is a single loop course with rolling hills entirely within Burr Oak State Park, including hiking and bridle trails as well as portions of the Buckeye Trail. Approximately 90% trail and 10% asphalt. This is sure to be a marathon that will challenge you. Course will be well-marked with several creek crossings and will have well-stocked aid stations featuring Tailwind. Join us in the lodge after the race for a party with Jackie O's Brewery! Discuss your epic accomplishment with fellow Bobcats while enjoying your first draft on us.
NEW Half Marathon distance on the same trails as the Marathon - course coming soon!
Have your family tag along for an awesome Ohio stay-cation! Burr Oak Lodge offers great rooms at reasonable prices. With a restaurant, indoor pool, and plenty of outdoor activities, there is something for your whole crew! We've reserved the entire property, but rooms at the lodge are still extremely limited, please call the lodge directly and ask for the Bobcat Marathon room block - (740) 767-2112.
If you have any questions about this race, click the button below.
Questions?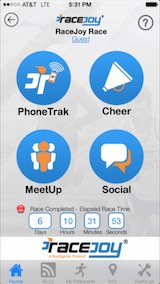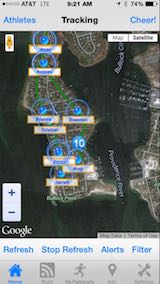 Free Live Tracking and Progress Alerts on Race Day!
(Race organizers are providing this as an included service.)
Make sure you download the RaceJoy mobile app for live phone tracking at the Bobcat Trail Marathon.
Carry your phone and use RaceJoy to add to your race experience with these key features:
GPS Progress Alerts
Receive GPS-based progress alerts at mile points on the course for current pace and estimated finish time.
Post to your Facebook and Twitter walls.
Have friends and family track your performance.
Live GPS Tracking
Supporting spectators can track your blue dot moving along the course from home or at the race site.
NearMe proximity alerts notify spectators when you are drawing near.
Find each other using RaceJoy's MeetUp tool.
Send-a-Cheer
Receive fun, motivational audio cheers from your supporting fans.
Start sending cheers to others doing the race at any time.
The Bobcat Trail Marathon is sponsoring RaceJoy to provide participants and spectators these features for free (normally a 99 cents upgrade fee for both the participant and spectator).
Note:
- Participant must carry phone
- No official race timing information is provided for this race in RaceJoy