As of 12:09 pm on Thursday, April 6 all events at the Choo Choo 9 Miler & 5K are SOLD OUT! There will be no additional online or race day registration.
Whether you're getting ready for that spring half marathon or looking to test your winter training in your first 5k of the year, the Choo Choo is for you. We have race options of 9 miles or 5K, both runner and walker friendly. Join us on April 9th for something great, the Choo Choo 9 Miler and 5K.
We're going to deliver great swag, new finisher medals for everyone, and a fun time. You're going to deliver the memories. Get on the believe train and come run with us! All aboard!
As you take part in the Choo Choo, you'll be paying homage to the legend of the central Ohio railways, the late Silas B. Rutherford and his beloved Bessie Express. Just as the good citizens of Westerville have done for generations, kick off your spring by celebrating Silas' final journey aboard his ill-fated steam engine - and then cover those final 9 miles in his memory.
If you're looking for a group to train with in preparation for the event, the Columbus Running Company hosts free group runs every Saturday morning at all locations. Runs start at 8am, all abilities and paces are welcome.
Our benefitting charity
The Choo Choo 9 Miler and 5K is supporting OYO Camp, Ohio's Camp for Deaf/HH Kids through donations made through the race site. If you want to help out or learn more, simply click on the big "DONATE" button at the top of the page. You are not required to register for the race to donate.
New in 2017
In lieu of another shirt, all participants will receive an awesome Choo Choo adidas performance running hat. Stay in the shade as you bring Bessie home.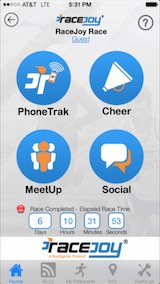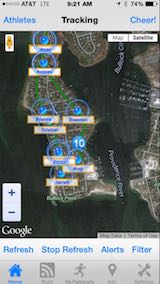 Free Live Tracking and Progress Alerts on Race Day!
(Race organizers are providing this as an included service.)
Make sure you download the RaceJoy mobile app for live phone tracking at the Choo Choo 9 Miler and 5K presented by adidas.
Carry your phone and use RaceJoy to add to your race experience with these key features:
GPS Progress Alerts
Receive GPS-based progress alerts at mile points on the course for current pace and estimated finish time.
Post to your Facebook and Twitter walls.
Have friends and family track your performance.
Live GPS Tracking
Supporting spectators can track your blue dot moving along the course from home or at the race site.
NearMe proximity alerts notify spectators when you are drawing near.
Find each other using RaceJoy's MeetUp tool.
Send-a-Cheer
Receive fun, motivational audio cheers from your supporting fans.
Start sending cheers to others doing the race at any time.
The Choo Choo 9 Miler and 5K presented by adidas is sponsoring RaceJoy to provide participants and spectators these features for free (normally a 99 cents upgrade fee for both the participant and spectator).
Note:
- Participant must carry phone
- No official race timing information is provided for this race in RaceJoy

If you have any questions about this race, click the button below.
Questions?
221 W Main St
Westerville, OH US 43081
Instagram photos tagged with #choochoo9miler
Share your photos with us on Instagram, and use the hashtag #choochoo9miler
Join this event and invite your friends on Facebook.