We encourage you to follow CSE staffer and avid cyclist Mark Clem who will be blogging about landmarks and hotspots along the route and provide some color commentary about The Race Across Maryland over the course of the 60 days. In general he will follow the 5 miles per day and identify things you may see at those mile marks if you were actually taking the journey from West to East. By car, the mileage from West to East is probably closer to 300 miles, but we didn't want to push our luck and make you do those extra 50 miles. Plus, if we are going into this virtual world, who wouldn't want to fly like a bird!
MUCH OF OUR CONTENT WILL BE POSTED ON OUR SOCIAL MEDIA PAGES.  FOR THE FULL RACE ACROSS MARYLAND IMMERSION EXPERIENCE, WE INVITE YOU TO FOLLOW US ON FACEBOOK AND INSTAGRAM.
CLICK HERE to Watch our Wrap Up Video
August 22
Well, there's no more road to hit. I'm all done. We started with a dip of my tire in Deep Creek Lake in Garrett County, Md  and now we end with another ceremonial tire dip in the Atlantic Ocean in Ocean City, Md.  We hope you had a blast riding or running Across the great State of Maryland. We did it!!! We stopped at a ton of small businesses along the way and hopefully you will stop at a few on your next trip cross the Free State..
August 21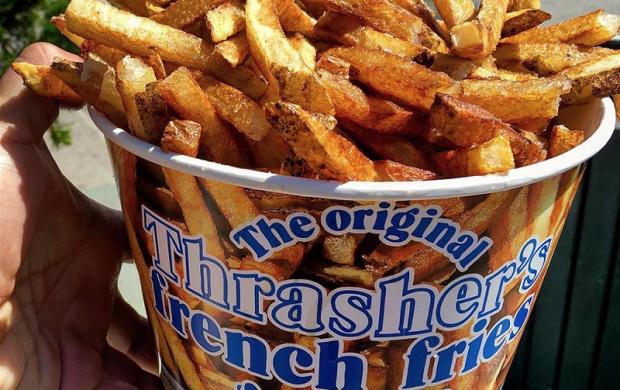 Oh my!  Our final stop on the Race Across Maryland. We rode from 3,360 feet at Table Rock Maryland in Garrett County to zero feet, sea level, in Ocean City…..Time to reward the team with some Trasher's French Fries.  There's really no other Fries like'em anywhere. It's as simple as you get. They're on the Boardwalk at Ocean City, MD.  No ketchup. Only salt and vinegar. Fresh cut potatoes deep fried in peanut oil. Since 1929
August 20
Nothing says Ocean City better than Fishers Popcorn. Yup. Carmel, Old Bay, Plain, Cheese or any of the combinations of popcorn are just what I need after riding in the Race Across Maryland from Garrett County to Ocean City.  The Original Fisher's Popcorn store located at Talbot Street and the Boardwalk in Downtown Ocean City. They are a small family business that specializes in caramel popcorn and offers a wide variety of other flavors. You can buy some popcorn in a cup to eat while you're enjoying the views of downtown Ocean City on the boardwalk and the beach, get a plastic tub to take home with you, or they've got decorative cans if you'd like to give their popcorn as a gift to someone who has a love for popcorn. They also sell salt water taffy and Pepsi products. 
August 19
Yup, time to stop at the welcome sign to Ocean City Maryland. It's the statue of the White Marlin proclaiming that Ocean City is the White Marlin Capital of the World and host to the famous White Marlin Fishing Tournament held every summer. I'm going to get a few pictures at the statue and then head to the boardwalk.
August 18
There are a ton of places to grab a bite at the beach.  But my choice today is Belly Busters. Located on 45th & Coastal Highway in Ocean City MD  they specialize in steamed crabs, burgers, subs, fish tacos and much more of your favorites. Dine-In also offers draft & bottled beers and wine. Their family-friendly restaurant offers inside and outside seating with a laid back, beach atmosphere.  Its a simple, long-standing seasonal OC fixture!  
August 17
We made it to Coastal Highway and I got a little distracted by the lights, action and excitement that goes on here.  But what really got me was the amazing aromas that get my mouth watering and sweet tooth talking again!  We are making a stop at Dumser's Dairyland. Since 1939 Dumsers has been apart of nostalgia of Ocean City. Mrs Gladys Dumsers started making her own homemade ice cream on the boardwalk and Donald Timmons has carried on her tradition since 1981. There are now 7 locations throughout Ocean City.  I just love bellying up to the old fashioned soda counter at the 123rd St location for breakfast, lunch, dinner or just a late night treat.  Can't beat a Root Beer Float made the just like they used to in the 40's and 50's using a true soda fountain!  We will make a few more stops around town before we call it quits.  Hang with us a few more days!
August 16
When you make it to Berlin you start to smell the salt air but there are still a few miles to go before you get to the beach.  Be sure not to bypass another great opportunity to experience small town Maryland. I'm going to take a break today at Fins Ale House and Raw Bar. Offering fresh fish & seafood specialties, succulent raw oysters, and a locally focused craft beer selection.  I'm thinking a dozen oysters and maybe some steamed shrimp to help me take in the spirit of the beach. Fins is built around one philosophy-- family. Every guest that walks through their doors, for the first time or the hundredth time, is a part of the family. That's kind of how we feel about all of our Race Across Maryland participants!  Berlin, Md. has one of the cutest main streets in the state so be sure to check it out after you fill up at Fins.
August 15
We couldn't make our way through Salisbury without stopping at their baseball stadium too.  The theme continues on the Race Across Maryland as we make a visit to Arthur Purdue Stadium, home of the Baltimore Orioles Class A Affiliate Delmarva Shorebirds. The stadium opened in 1996 as an affiliate of the Montreal Expos. But since 1997 it has been a farm team of the hometown Orioles.  The stadium sits right near the Route 50 bypass so its easy to catch game if you live in the region or if you are coming from or going to the beach.  Heck, you can even take an evening during your beach vacation and take the short drive to catch a game!  As we have pointed out before, plenty of spots to eat, see and log a few miles while in Salisbury.  
August 14
If you live in Maryland, especially near the Eastern Shore, you know that chicken is a staple industry of the state.  And the one everybody knows is Purdue Farms, thanks to family pitchman Frank Purdue.  Purdue is a family-owned and operated, with a commitment to quality that extends back to their founding as a table-egg business on Arthur W. Perdue's family farm. Today, they're headquartered in Salisbury, Md. across the street from the Perdue family farmhouse, and Chairman Jim Perdue is the third generation Perdue to lead the company. Purdue's chickens are raised on family farms all across Maryland and others locations, supporting more than 2,000 independent poultry producers. Next time you are on a run or ride near Salisbury, keep an eye out for flying feathers on the road!
August 13
We are on the home stretch!  Need to rest and fuel up for the last few stops on our Race Across Maryland!  Today is a rest day so no blog post today.  Take some time to visit our SUPPORTERS page to see many of the amazing small businesses who have joined us for the Race Across Maryland.  We will be back on the bike tomorrow!
August 12
I can smell the salty air which means I'm getting close to beach. But first, I am stopping in Salisbury so I'm going to park my bike in front of the Brew River Restaurant.  It's located at the Port of Salisbury Marina on the Wicomico River and was voted Maryland's Best Bar, Best Seafood Restaurant, Best Happy Hour, Best Sunday Brunch and Best Waterfront Restaurant.  That is a lot of Bests!  Look at the menu-- if you want it, they've got it. Steaks, burgers, ribs and yes, all of that great Maryland seafood they everybody likes when they travel to the beach. Brew River has earned a reputation as "the place to be." Their multi-purpose facility boasts 3 large scale sit-down bars that are all unique and each hold a different appeal. The Main bar is the sports bar, unmatched in its size, party atmosphere and numerous 75″ tvs. They have the area's hottest djs and a state of the art sound and light system. This is the place to dance and party! The River Bar has an indoor/outdoor feel and is home to all our concerts. Some of the biggest bands on the east coast have rocked the doors off this place.  And the Dock Bar is Salisbury's only outdoor waterfront bar and literally sits right on the edge of the Wicomico River. Wicomico County is home to over 1,500 acres of parks and trails where visitors can hike, bike, play, relax and explore the area's natural beauty.
August 11
If you are from the great state of Maryland, than you already know. If you spent anytime here, you probably get feeling. If you've never visited Maryland, you may not understand. All Marylanders have……MARYLAND PRIDE!!!  So, I'm stopping today in Cambridge to experience some of that Maryland Pride at the Maiden Maryland store.  This new store showcases the talent and beauty that resident artists have to offer. From artwork to furniture to pottery to jewelry to home decor and so much more! Maiden Maryland is sure to have something for everyone! The store screams Maryland Pride. You know we Marylanders love our flag. You'll find flags and shirts and hats and all things Maryland!  With flat, quiet roads and spectacular Chesapeake scenery, Dorchester County is perfect for road warriors of all ages and abilities. Wander the family-friendly roads at Blackwater National Wildlife Refug and; run or ride the same scenic roads where top triathletes compete during the annual Ironman race.
August 10  
Riding across Maryland can make you thirsty and hot. So can driving to the shore for vacation!  Once you survive the traffic crossing the Bay Bridge, there is no better way to cool off and quench your thirst than by stopping in at Ten Eyck Brewing Company. It is conveniently located near the intersection of Routes 50 and 213, next to the Mid Atlantic Cat Hospital. Ten Eyck  is locally owned by women veterans and first responders. They've served around the globe, and now they want to serve the Eastern Shore community.  They envision a place for the community to gather and BEERbrings people together!  TEN-ike means "at the oak" and they have an amazing oak bar that came from a tree that was knocked down by a storm at the summer camp where one of the owners went as a kid.  It's stories like that that make this place special.  They just had their GRAND OPENING this past weekend so get there and be one of the first to try a pint!!
August 9
There's not much happening in terms of businesses between Easton and Cambridge but what many people like to do is stop at one of the many roadside produce stands. These stands have become famous for selling Eastern Shore farm raised fruit and vegetables including my favorite, corn on the cob.  I am also a sucker for fresh peaches that are great this time of year.  Each stand seems to have its specialty and some even have baked goods made with their home grown fruits...there is that sweet tooth talking again! I stopped at Guy Farms produce stand.  They have a little bit of everything. From peppers to Cantaloupe.  They also have some of the biggest watermelon I have seen in a while.  Maryland's watermelon harvest is well under way. Time to enjoy an ice cold slice of local goodness! Maryland's farmers produced about 3,700 acres of melons in 2018, according to the U.S. Department of Agriculture.  You can find other Maryland farms here.
August 8
If you haven't noticed, the Race Across Maryland crew has a bit of a sweet tooth-- if you remember, our very first stop was a Candyland!  Well, I am ready for some more sugary treats so I am making a stop at JoJo's Cupcakes and Cream in Easton, Md. Voted Best on the Eastern Shore for two years running their gourmet cupcakes will knock your socks off! They make their batters and icings  in store from scratch. They serve up a menu of classic cupcakes and a few featured flavors each month.  Plus they serve up to 32 flavors of farm fresh Kilby Cream Ice Cream.  Talbot County is another spot to log some scenic miles on bike or foot.  And now that we have crossed the Bay, all the hills are behind us!
August 7
After riding over the famed Chesapeake Bay Bridge my first stop has to be Fisherman's Crab Deck in Grasonville. This place is a local legend and never let it be said that Mark Clem rode by on his bike in the Race Across Maryland and didn't stop onto Fisherman's.
Known locally and throughout the region, Fisherman's is what Eastern Shore dining is all about. Plenty of seafood delights adorn the menu. It's just the place you need to be today. Fisherman's is a full service, waterfront dining, inside and outside on the Kent Narrows and no reservations needed. FREE boat docking while you dine! And don't worry about what you're wearing, casual attire is excepted.  And while in the area, don't be afraid to log some miles on the Kent Island Bike Trail.
August 6
Its time to prep for the trek Eastwards and we need a break!   Today is a rest day so no blog post today.  Take some time to visit our SUPPORTERS page to see many of the amazing small businesses who have joined us for the Race Across Maryland.  We will be back on the bike tomorrow!
August 5
Well, the authorities did not like the idea of me riding my bike across the Bay Bridge and to be honest, neither did I. That thing is HIGH!!  I tried to find a boat captain with a stationary bike onboard who would float me across while I peddled,  but to no avail.  The Chesapeake Bay Bridge (known locally as the "Bay Bridge")  connects the state's rural Eastern Shore region with the urban Western Shore. The original span, opened in 1952 and with a length of 4.3 miles (6.9 km), was at the time the world's longest continuous over-water steel structure. The parallel span was added in 1973. The bridge is officially named the Gov. William Preston Lane Jr. Memorial Bridge after William Preston Lane Jr. who, as the 52nd Governor of Maryland, initiated its construction in the late 1940s finally after decades of political indecision and public controversy.  The bridge is part of cross-country US 50 that runs to 3073 miles Sacramento, California... Maybe that should be our next challenge together? 
August 4
Looking for a day of fun in the sun with your family this summer? Sandy Point State Park could be just what you had in mind. The 786-acre treasure on the northwestern shore of the Chesapeake Bay offers a little something for everyone – even in a COVID-19 world. Individuals are invited to swim, fish, crab, picnic and launch their boats from the park from 7:00 a.m. until sunset seven days a week. Park patrons are asked to wear masks and exercise appropriate social distancing during their visit  Lifeguards are on duty at Sandy Point from 10:00 a.m. until 6:00 p.m. daily. Pets are not allowed on the beach during the busy summer months. Park admission is $5 per person on weekends and holidays and $4 per person on weekdays. Family members intent on reeling in the big one can fish from a designated section of the beach or from the nearby jetty. Other adventurers may elect to cast their lines from the fishing and crabbing pier in the park's marina area.  Summer has not been cancelled. It's alive and well at Sandy Point State Park in Anne Arundel County
August 3
If you're heading to Maryland's Eastern Shore to fish the Chesapeake Bay, Atlantic Ocean or any of the waterways in between, a stop to Angler's Sports Center for all of your needs is a must. Today I'm going to make a brief stop in and check it out. If you are passionate about the outdoors and love to fish or hunt, Anglers is the place for you. With a wide selection, knowledgeable staff and great customer service, this is your go-to place for hunting and fishing just outside Annapolis, Maryland. Yup, right before you get on the Bay Bridge, take the exit and stock up on everything you'll need.  They do a weekly Fishing Report video, and if you are new to finishing, they even run a helpful seminar series to help you out.
August 2
OK, we REALLY couldn't leave Annapolis without making one last stop-- at the United States Naval Academy! The US Naval Academy is the second oldest military base in the country.  Never been to the yard? It is certainly a beauty you will want to check out!  Once we get past the pandemic, they will being daily hosted walking tours where they bring many of the U.S. Naval Academy's most important stories to life.  Plus.. right up the street from the Naval Academy is the B & A trail where you can knock out a few miles for your race across Maryland!
August 1
We couldnt leave Annapolis without stopping in at one of the best breakfast spots around-- the Iron Rooster!  They have a few locations popping up across Maryland but my favorite is the one here in the capital city.  Nothing starts a day better than sitting on their outdoor patio smelling the Bay air and eating one of their famous RoosTarts.  Think of it as a house-made pop tart made daily with fresh fruit and homemade pastry dough.  If that doesn't get you going, nothing will!  Now, I have to and start to figure out how I am gong to get across the Bay Bridge on my bike!
July 31
We could not do the Race Across Maryland without a stop at the state capital! We are at the Annapolis, Md. today, home of the oldest state house in the nation still in legislative use.  Image the history inside those walls!  As a Marylander,Annapolis has little bits of the entire state (other than the mountains!) wrapped up in one town.   History, waterways, fun, excitement, sports, military, outdoors, and on and on.  Of course there are plenty of spots to bike or hike and get some miles in Annapolis.  And plenty of family activities and eateries for before or after your miles!  Plan your visit today!
July 30
We landed at another Mom & Pop crab house-- or in this case shack-- on our Race Across Maryland.  This time we are in Gambrills, Md. at Fat Boys Crab Shack & Carryout.  They serve crabs all year and have a large menu with plenty of choices for seafood and land lovers.  But of course, everyone in the Race Across Maryland is down to pick some crabs!!  You can eat them on their crab deck or take them home.  When in Gambrills you have to long some miles on one of the many trails of Anne Arundel County. The county has an extensive network of recreation and transportation trails that include the B&A Trail, BWI Trail, Broadneck Peninsula Trail, and WB&A Trail.
July 29
There seems to be a theme here on the Race Across Maryland.  Baseball. Hot Dogs.  Hot Dogs, Baseball.  Probably not an accident, if you ask me!  Today I'm just outside Baltimore at another great hot dog joint, Ann's Dairy Crème. These dogs are like a piece of heaven. Plus, don't forget the milk shake to go with them.  When in Anne Arundel County's  Glen Burnie a stop to Ann's Dari Crème is a must and say hi to Pat Schreiber who's been running the place for years. Ann's is a step back in time and the taste of their hotdogs is outta this world. Today for lunch with Mark Clem…..two with chili, mustard and onions and a chocolate shake. Now that's good eat'in.  Now I need a nap!  But before I do I'm taking a ride on the BWI Trial that is just is just 5 miles from Ann's.   The 11-mile BWI Trail was primarily designed for area commuters; however, the trail also makes for a great recreation venue. Much of the trail is mercifully peaceful, especially the segment through Friendship Park's pine forest. Aviation buffs will enjoy the northern terminus of the trail in Andover Park, where they can view the general aviation runway.
July 28
Baseball is back and we are in Baltimore at the perfect time!  Although there are no fans allowed, we made a stop at Oriole Park at Camden Yards.  This beautiful baseball-only facility in downtown Baltimore, became the official home of the Orioles on April 6, 1992 and likely changed baseball forever.  The park inspired a generation of construction. No longer would communities across America build multipurpose stadiums devoid of character, surrounded by vast parking lots. Ballparks would now be created to nestle neatly into existing and historic neighborhoods and play key roles in the revitalization of urban America.
July 27
We've got just about a month left and will be headed toward the Chesapeake Bay here soon.  We need to get some rest in order to be physically and mentally ready so no blog post today.  Take some time to visit our SUPPORTERS page to see many of the amazing small businesses who have joined us for the Race Across Maryland.  We will be back on the bike tomorrow!
July 26
Marylanders are strong.  Marylanders are patriotic,  Marylanders are unified.  Marylanders are fortified!  Nothing symbolizes these characteristics of Marylanders more than Fort McHenry.  We are in Baltimore and this National Monument and Historic Shrine.  If you have never visited the Fort, let us strongly suggest you do so during your next visit to Charm City.  Over the star-shaped Fort McHenry during the Battle of Baltimore, September 13-14, 1814. The valiant defense of the fort inspired Francis Scott Key to write "The Star-Spangled Banner." Currently, only the park's grounds and parking lot are open for recreational visitors. Park gates open at 9am and close at 5pm. The Fort is self-guided and visitors should plan to spend an hour and a half touring the exhibits. The sea wall is perfect for a walk, jog or ride and you are not far from the famed Inner Harbor promenade and other Baltimore attractions.  Make a trip to the city, park at Camden Yards sports complex and log head to the fort (3.4 miles)  Then explore the shops and restaurants and you'll have double digit miles before you even know you are tired!
July 25
There are lots of places that claim to have the World's Best Crabcakes. We can all agree that the truth is definitely somewhere in Maryland. The argument of where exactly that is has surely caused fist fights and broken up marriages. One of the places that gets a lot of love when discussing the  topic is our next tour stop.  Jimmy's Famous Seafood just may be the Gold Standard for seafood restaurants, as they claim.  They ship their crabcakes all over the globe and have been featured on every celebrity chef show known to man!  I always say it's tough to argue about the best when you are stuffing your face with delicious food and I'll just stick with that!  Plus that age old discussion gives us more reasons to travel around our great state and try them all!
July 24

Here is a novel idea, stop by a running store when we are Racing Across Maryland!  Just like we did with the bike shop while in Frederick, we stopped by to see our friend Pete Mulligan at Falls Road Running.  Fall Road in no doubt Baltimore's best running store. It's locally owned & operated since 2000 and they are committed to helping everyone find the best shoe for their needs. Running, walking, track, cross country & overall fitness.  Not surprising but the Falls Road Running gift cards were one of the first sets to be gobbled up by award winners. But no worries, Pete is so committed to your success, he is offering up this-- Show your Race Across Maryland registration in store and get 15% off your purchase of $100- or more. Offer expires August 31, 2020. 
July 23
We are still up here north of Baltimore and my sweet tooth is calling again!  That's why we are making a stop at Cake by Jason in Lutherville, Md.  This place has been all over the food networks so we just had to stop in and check them out for ourselves.  Cake by Jason dubs itself as "your favorite neighborhood cakery" and once you visit you'll know why! This is the place where you can get a high-end boutique cake with rockets coming out of the top, or you could come and just get a dollar coffee and a cupcake & hang out in the lobby.  Lots of flavors that rotate through the shop so every visit is different.  If you need  sugar fix or a place to go on a rest day, Cake by Jason is a place to consider the next time you are in Baltimore County.
July 22
When we announced our plans for the Race Across Maryland to help support our state's small businesses, Dave from WOW Wellness Center in Cockeysville was one of the first ones to reach out to us.  Turns out Dave has run in many of our events and has a business that is made for runners and cyclists!  WOW Wellness is a unique functional medicine practice that develops a personalized approach with optimal wellness at the core to provide our clients with the ideal foundation to create the ultimate mind, body, and spirit transformation.  If you are lucky enough to win one of our gift certificates, consider selecting one from WOW as they are providing a full wellness package valued at $65! Cockeysville, Md is home to a number of great spots to run, walk or ride including Oregon Ridge Park, the NCR Trail and Lock Raven Reservoir. 
July 21
We made our very first stop way back west at Candyland in Oakland, Md. and now our sweet tooth is screaming for some more.  So we are stopping at Pat's Porch in Catonsville. Pat's Porch offers a collection of unique gifts, home décor, greeting cards, balloons, fine chocolates and a little bit of a lot of things.  But the thing that brought us here is the nostalgic candy.  Set up like the penny candy stores of the past, you will be thrown back into time when you visit.  But also be sure to try the Bay Babies their best-selling solid chocolate crabs…sprinkled with Old Bay seasoning and  made in-house!  Catonsville, Md. is home to UMBC and retains the feel of a college town, even though it is next to Maryland's largest city.  When here visit Patapsco Valley State Park along the southern border of Catonsville, Maryland. The park covers over 16,000 acres of land and stretches 32 miles along the Patapsco River, along with 170 miles of trails with varying levels of difficulty.
July 20
Elkridge Maryland is not only the headquarters of Corrigan Sports, but the place where you can get the some of the finest coffee anywhere. My stop today on the Race Across Maryland is to Coffee on Main Street. They have indoor and outdoor seating on their quaint little patio.  Stop by and enjoy one of their many coffee treats or seasonal beverages.  They also serve up a crowd favorite edible cookie dough plus pastries, ice cream, cookie dough, energy bites and more!  Elkridge, Md. is also home to Patapsco Valley State Park.  Just down Route 1 from Coffee on Main is the entrance to the park's Avalon Area. This part features access to the Grist Mill Trial and its mix of paved and gravel/dirt paths to get some mile on foot or bike.  And several places to cool off by the shores of the Patapsco River. If you make a road trip, be sure to stop by the CSE offices and say hello!  It is also just around the corner from the Guinness Open Gate Brewery.
July 19
Today's ride takes us to Old Ellicott City, a town that has endured two catastrophic floods within the last two years. Raging water simply destroyed this historic town twice. But, they've bounced back. There are 65+ shops, galleries, restaurants, salons and museums look forward to welcoming you. Old Ellicott City feels like home, even if it's your first time visiting. You'll be surprised how easy it is to fall in love with our eclectic community of artists, shop keepers, restaurants, service providers and welcoming residents. We stopped in to the Little Market Café today on our Race Across Maryland. Little Market Café is a wonderful gathering place serving a broad variety of breakfast and lunch options, and of course, great coffee. The menu offers something for everyone: omnivore, veggie-lover, vegan & gluten-free alike. Their sandwiches & salads are even named after places around town as well as folks from the community.  During the summer, they host outdoor Concerts on the Courtyard to showcase a mix of music styles from the very best local talent. These shows are always family friendly and absolutely free.
July 18
Rest Day today!  Getting ready for the second half of the Tour of the great state of Maryland.  Remember much of your content is posted on our social media pages.  For the full Race Across Maryland experience, we invite you to follow us on facebook and instagram.
July 17
It's the middle of summer and days are HOT!  Nothing tastes better on a hot day than an ice cold beer.  And not many beers taste better than what they are brewing at Elder Pine Brewing and Blending.  We stopped by their tasting room located on their farm brewery at 4200 Sundown Road in Gaithersburg. Elder Pine serves up to 19 rotating beers on tap with 3 nitro lines and host regular can releases on site.  They have both indoor, outdoor and "forest" seating that takes the air temperature down about 10 degrees when dining under the shade of the pine tree grove.  There are plenty of places to hike, run or ride in Gaithersburg, Md.  In Upper Montgomery County where Elder Pines is located, there are two lane country roads crisscrossing the county and just begging to be explored.
July 16
Farming is a lost art in much of Montgomery County these days but the Butler family has been doing it since 1953 right here in Germantown, Md.  Butler's Orchard grows more than 25 varieties of fruits, vegetables, flowers, and trees on over 300 acres.  It is truly a family affair with three Butler children who earned horticultural degrees from the University of Maryland and living and working on the farm. (The other sister chose the corporate life!)  Butler's has a huge Farm Market building and of course Pick Your Own opportunities throughout the growing season.  They are also famous for their festivals around Easter, Halloween and Christmas.  And plenty of spots to get some miles in around the area.  One favorite is the Magruder Branch Trail which offers 4+ miles of paved path plus many dirt trail off-shoots for the mountain bikes for adventurous walker.
July 15
We make our first stop in Montgomery County today with a visit to its northern most point.  Yes, when the kids in Bethesda wake up with green grass  out their window only ti find school delayed due to snow, its usually thanks to the conditions in Damascus!  Today's stop at place that's been a classic since 1960, Tom & Ray's.  First opened in 1960 by Tommy Bellison and Ray Luhn, Tom & Ray's Family Restaurant has been a Damascus staple. Tom and Rays believe that there is no higher calling than service and that there is no finer community than Damascus. Their Damascus roots run deep and they understand that people want a sense of place and have a desire for a simpler time. Damascus, Md. is a small town surrounded by the agricultural and rural open spaces of the County's Agricultural Reserve. The protected area of the agricultural and rural open spaces buffers Damascus from the more intense growth patterns in the region.
July 14

Back on the bike today and when you're heading towards Mt, Airy, you set your sights on Mt. Airy Liquors. Ben Gouleke and his staff has everything you want in a liquor store even a rotating Growlers menu.  Their growler tap selection is always full of the rare and obscure brews from breweries near and far. Most of what they tap never sees the package line making a growler fill the only way to take these amazing beers and ciders home with you to enjoy at your own pace. Along with our amazing tap selection, we always offer a non-alcoholic craft root beer on tap. They are also super knowledgeable on wine and liquor pairings too. Mt Airy, Md. is a quaint little town worthy of a visit if you are looking for an easy access from 70.
July 13
Did you know that the nation's oldest road crosses Maryland's diverse landscape, from Baltimore in the east to the mountains in the west?  The eastern section of the Road That Built the Nation" runs from historic Baltimore through rolling countryside through Frederick to Hagerstown something to check out for sure if you are seeking new places to see.  Now, if you decide to run or bike down this Historic National Road (route 144) near Monrovia you will see a strange site across Route 70. Rising above the tree line, you will find a couple of roller coasters and a human slingshot.  That's right, within a short drive from Baltimore, DC or Frederick you can enjoy a family friendly amusement park.  Adventure Park USA is a 17.5 acre indoor and outdoor park featuring over 20 major attractions, including a full service restaurant. With thrilling roller coasters, Go Karts, mini golf courses, ropes course, laser tag, bowling and so much more, there is fun for all ages.
July 12
America has a love affair with BBQ!  But you don't have to go to Memphis or Carolina to get great pork and beef.  Black Hog BBQ is right here in Frederick, Md. it has  some of the best darn BBQ around. They make 5 styles of BBQ. Smoked on site daily along with homemade sides!  Frederick is nestled near so many places to hike it's almost a surprise to know that Downtown Frederick is SO full of life and culture! Make a trip to the area and finish your day by stopping by downtown Frederick to eat, drink, shop, and enjoy everything this small-ish and thriving town has to offer (hint: it is A LOT).
July 11
I've been on my bike for a long time riding in the Race Across Maryland and today I feel like I gotta have a doughnut. Well, I'm in Frederick and I'm stopping at Gory Doughnuts. Word on the street is that these are the best doughnuts on the planet so run or ride by and taste for yourself.  Glory Donuts is a small "Mom n Pop" doughnut shop baking as many tasty treats as they can everyday!  Made from scratch, old fashioned dough baked fresh, overnight!  Due to demand they sometimes (usually!!) run out of doughnuts! We recommend stopping in for doughnuts by 12noon on weekdays, and 10 on the weekends! They are First Come First Served!  Feel free to call 240-651-3467 for the daily flavor selection and availability! In addition they have a full breakfast menu served all day every day!


July 10
Here's one for the bikers on the tour!  We hit one of the best bike shops in the state- The Bike Doctor in Frederick. We know tons of people pulled out those two-wheelers that had been collecting cobwebs in the garage over the past two months.  If you need a tune up or even found out its time for a new one, Bike Doctor is the place to stop.  They have 7 locations around Maryland and the Frederick location helps us with our cycle leads for the Frederick RunFest (shameless plug!)  Frederick, Md. is GREAT cycling town.  You can find the Frederick Watershed Mountain Bike Trails, the Frederick History Bicycle Loop, and even the Covered Bridges Tour when you are looking for a spot to log some miles on two-wheels
July 9
We are going to take some extra time here in Frederick to talk to some folks about our Frederick Running Festival so today is going to be a rest day.  No blog post today.  Take some time to visit our SUPPORTERS page to see many of the amazing small businesses who have joined us for the Race Across Maryland.  We will be back on the bike tomorrow!
July 8
Today we stop at Harry Grove Stadium in Frederick Maryland which is the home of the minor league Class A Frederick Keys of the Carolina League. The Frederick Keys minor league baseball team is the affiliate of the Baltimore Orioles. The franchise is named for Star Spangled Banner poet Francis Scott Key, a native of Frederick County who is buried just across the street from the stadium site.  Frederick is on the of biggest towns we have hit so far on the Race Across Maryland.  Lots of great spots to check out so hang with us for the next few days as we explore Frederick.  Frederick County is Maryland's largest county in size -- 663 square miles. The City of Frederick, the county seat, is intersected by 5 interstate and national highways that provide easy access to Baltimore (46 miles) Washington, D.C. (43 miles), Gettysburg, Pennsylvania (32 miles), Harpers Ferry, West Virginia (21 miles) and Leesburg, Virginia (25 miles). Did you know, Frederick County is home to the 5,700-acre Catoctin National Park, site of the Camp David Presidential Retreat?
July 7
Today we are heading into Myersville where I'm stopping at Martin's Farm Market.  You'll find lots of treasures such as baked goods, fresh produce meats, eggs, and cheeses from local farms.  You might also find locally crafted soaps and lotions, fersh cut flowers, woodworking and crafts, handcrafted jewelry and of course, breakfast from Eklectic Coffee Bar and Whistle Punk Farm Food Truck. The Town of Myersville is a small, picturesque community located in the Middletown Valley, surrounded by a scenic rural landscape, which is preserved through an abundance of recreations parks, golf courses and the Appalachian Trail.  Looking for something different from the grind on the roads, log some miles on the Appalachian Trail.  Head to nearby Boonsboro  and check out Washington Monument State Park, site of the first completed monument dedicated to the memory of George Washington.
July 6
Its gotta be an ice cream shop on 4th of July!  Be on the look out for the little red, white and blue building with the American Flag waving proudly out front. That's Debbie's Soft Serve in Smithsburg. When in this sleeply small town, you have to  stop in to check out Jim, who runs the place.  Established in 2001, Debbie's specialty is their Parfaits- layers of flavored ice cream and topping in a tall cup.  Today,of course, I'm trying the Apple Pie Parfait! Aside from road improvement