Countdown to Run the Bridge
What an amazing day! Gorgeous weather and fabulous people everywhere! From our volunteers to our sponsors to our participants to our friends and family cheering us all on...today was the type of day that warms our hearts! Thank you all so much for making it happen yet again!

See You Next Year! SAVE THE DATE 11.5.2017
This 10K certified course begins at the base of the Ben Franklin Bridge on the New Jersey side, crosses the bridge, doubles back, takes you through the waterfront area and finishes in Campbell's Field. A two-mile bridge walk immediately follows the start of the run. A Kids Event takes place at Campbell's Field during the race.
401 N. Delaware Ave
Camden, NJ US 08102
T-Shirts/Tech Shirt Upgrade
Cotton Long Sleeve T-shirts guaranteed to 10K online registrants (excluding Last Chance registrants).
Cotton Long Sleeve T-shirts guaranteed to online walk registrants (excluding Last Chance registrants).
New this year! All participants will have an opportunity to upgrade to a long sleeve tech shirt for an additional $10. Only one shirt per participant. Upgrade can only be ordered during registration. No tech shirts will be sold/switched at packet pick up. Sizes must be selected during registration. That is the size you will receive at packet pick up. Tech shirt upgrade expires Oct. 5th.
If you have any questions about this race, click the button below.
Questions?
A Special Message from our Chairman
My family has long supported Larc School which serves hundreds of children with disabilities and their families. For years, Larc School has held an annual Run the Bridge fundraising event. Cooper University Health Care and The Norcross Foundation are major sponsors of this unique event. Please join us in support of Larc School and become part of this incredibly successful event.
Sincerely,
George E. Norcross III
Chairman, Cooper Norcross Run the Bridge Event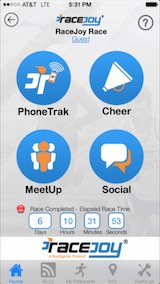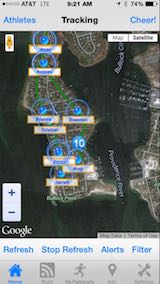 Live Tracking and Progress Alerts on Race Day!
Make sure you download the RaceJoy mobile app for live phone tracking at the 2016 Cooper Norcross Run the Bridge Event presented by AmeriHealth NJ.
Carry your phone and use RaceJoy to add to your race experience with these key features:
GPS Progress Alerts
Receive GPS-based progress alerts at mile points on the course for current pace and estimated finish time.
Post to your Facebook and Twitter walls.
Have friends and family track your performance.
Live GPS Tracking
Supporting spectators can track your blue dot moving along the course from home or at the race site.
NearMe proximity alerts notify spectators when you are drawing near.
Find each other using RaceJoy's MeetUp tool.
Send-a-Cheer
Receive fun, motivational audio cheers from your supporting fans.
Start sending cheers to others doing the race at any time.
Note:
- 99 cents per race upgrade fee for both participant and spectator
- Participant must carry phone
- No official race timing information is provided for this race in RaceJoy

Like this page and invite your friends on Facebook.