Get Started
Our simple race wizard makes it easy to setup race registration for your event in minutes. But that's not all: in addition to our robust registration tools, every race on RunSignup has access to a free race website, free email platform, fundraising capabilities, integrated marketing tools, and a RaceDay CheckIn App. Want a little more information, first? Request a call with our team to talk about how RunSignup technology can help you boost registrations an run a more efficient race.
Key RunSignup Products…
RunSignup offers a extensive set of features to help you manage your event from registration and marketing to fundraising and race day. Learn more about our core products and how they can drive your success.
RunSignup By The Numbers…
28,000+ Events
8 Million Annual Registrants
$2 Billion Raised
Manage Your Events
Easy for you. Easy for your participants.
Mobile friendly registration pathway to collect all the data you need (and none that you don't)
Flexible participant management with admin and self-serve options to reduce customer service and cultivate happier participants
Easy access sharing across all race elements (or just a few)
Comprehensive reporting for your team (and your accountant)
Secure, reliable payment processing on a PCI Level 1 Compliant platform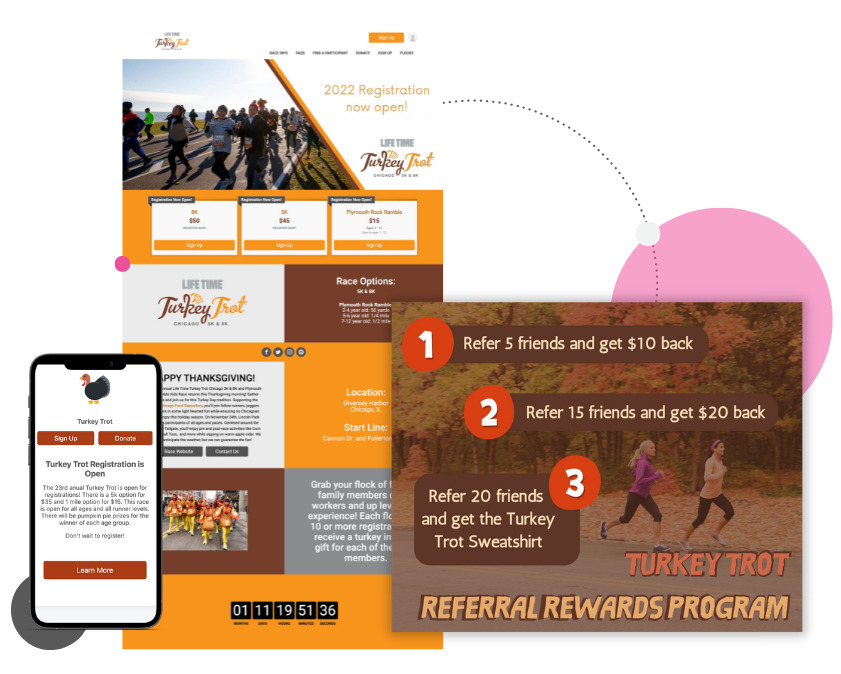 Grow Your Events
Free marketing tools to boost registrations.
Free professional websites for your events and your organization – always customized for yourbrand, (not ours)
Free email communications with unlimited contacts, unlimited sends, and dynamic personalization elements
Automated referral rewards programs to turn your participants into ambassadors and inspire word of mouth marketing
Incentivize action with creative pricing setups that encourage attendees to act now – and bring along their friends and family
Built-in RaceInsights Analytics to optimize your marketing spend by tracking every click, registration and donation on your race website
Raise More
Fully integrated donations and fundraising.
Support one or multiple charities with the ability to collect simple donations during registration or at checkout
Empower your supporters to fundraise for you with automatic and customizable fundraiser pages
Bring the power of teamwork to fundraising with team fundraisers that work together toward a common goal
Make fundraising fun with fundraising rewards, leaderboards, and gamification elements like trophy cases for team and individual fundraising badges
Access comprehensive fundraiser reports that are easily shared and downloaded
Create Amazing Experiences
Streamline RaceDay with a suite of tools.
Maximize registrations with user-friendly options for last minute registrations on-site and online
Eliminate lines with the RaceDay CheckIn App and get participants through packet pickup in seconds with a QR scan or intuitive search
Take timing to the next level with RaceDay Scoring's next-generation scoring solution integrated with RaceDay Results for real-time updates
Offer RaceJoy's real-time GPS runner tracking for spectator engagement, safety features, and a custom audio experience
Extend the fun with the free RaceDay Photo Platform for race directors and participants to share unlimited photos – and tag them automatically
Registrations for All Types of Events…