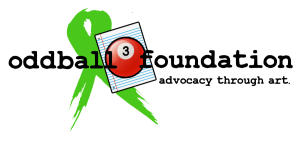 With your generous contribution we can continue our mission of affecting change through creative advocacy.
You donation will help to fund our Advocacy through Airwaves Mission, the Power of the Pen Mission, as well as our Creative Community Action and Community Collaboration Mission.
The Advocacy through Airwaves Mission, seeks to use the power of The Oddball Show podcast to reach as many people to advocate through art, to spread awareness of social change, with a unique blend of art and infotainment.
The Power of the Pen mission, is to publish authors on oddball magazine, and to curate a small press of powerful and talented artists with a mission to affect social change, and to publish them using our small press Oddball Magazine Publishing. Also, a goal of ours is to establish a pen and paper, old school zine, and to embrace the DIY culture that shaped our mission.
The Creative Community Advocacy mission is to create community events to raise awareness for mental health, social justice, and environmental action, using creative advocacy, such as concerts, workshops, public events such as our past Michael Cherry 5K, to raise awareness for suicide prevention and mental health education, book drives, and aligning with other non profits that align with our values.
The Community Collaboration Mission is to collaborate with Universities, Non Profits that align with our values, and Community Leaders to educate, empower and inform, through creative collaborations.
Your tax deductible donation helps us to achieve these missions. Thank You!