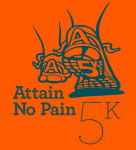 Saturday May 3, 2014
Get Directions
This is a service fee for processing your race application.
Attain No Pain 5K
Online Registration is Closed
Online Registration has Ended.
AZ Falls SRP Canal @ 56th Street and Indian School
Phoenix, AZ US 85018
My name is Abigail Cox and I am putting on the Attain No Pain 5K to benefit the Phoenix Children's Hospital's Pain Clinic. Our goal is to raise money in order to help conduct research, supply remedies, and stop childhood pain!
I have been a patient at the Pain Clinic and continue to do so, so I know exactly how it feels to go through such an awful experience. I want to help change the course of childhood pain and hopefully help the patients cope and stop such conditions.
This is a first year event and we need as much support as we can get! Please register, participate, and/or donate! We want to make this as big of a success as possible!
Attain No Pain!

Feel welcomed to use social media to spread the word!
#attainnopain5k2014
If you have any questions about this race, click the button below.
Questions?
About Complex Regional Pain Syndrome/Reflex Sympathetic Dystrophy
Complex regional pain syndrome, also known as CRPS is a rare, chronic (long-term) and progressive condition characterized by severe pain, extreme sensitivity, temperature changes, inflammation, and changes in the skin. Patients commonly describe the pain as a burning sensation, which affects one of the arms, legs, hands or feet.

CRPS used to be known as reflex sympathetic dystrophy - however, when possible causes of CRPS were later discovered, the name was changed.

Experts are not sure what the cause of CRPS is. We know that injury or surgery may have occurred before the onset of symptoms. However, in many cases no previous injury took place and there is no evidence of neurological or physical damage to the affected area.
No known cure exists but often pain can be lessened with medications and continual use of th eaffected area through Physical therapy, Occupational Therapy, Aqua Therapy, Biofeedback and alternative medical practices.
Like this page and invite your friends on Facebook.