HWY 264 East Tobacco Road
6th Hopi HUD home on right
Polacca, AZ US 86042
WELCOME RUNNERS!
It's exciting to be able to host this run once again for runners of all levels. We invite and extend a warm welcome to our local and visiting runners to participate in the 2016 Easter Hopi Trail Runs. This year we offer 3 courses: 8 mile and 5k (3.1miles), and 2 mile fun run/walk. The starting location is at Samantha Antone's residence at Lower East Polacca, AZ. Join us as we kick off the spring running season!
The 8-Mile trail run begins at the home of Samantha Antone's residence. The course runs up and along First Mesa village and wraps around while running over the 'Gap' of the mesa back to starting location. The terrain is moderate to hard with sand, narrow to wide trail, steep climbs up and down. The course utilizes established and old village trails below the villages of Walpi, Sitsomovi, and Tewa.
The 5k trail run is a fairly easy and fast course that is flat with one pass thru Polacca wash. The trail is one loop starting from starting residence and ending there.
*The run will conclude with prizes given to overall top male & female finishers in the 8 mile and 5k run. All 8 mile and 5k participants will receive a t-shirt.
If you have any questions about this race, click the button below.
Questions?
8 Mile Trail Course (Miles 1-4) Map
The following 2 maps show the 1st and 2nd half of the 8 mile course. It also includes start/end location, direction of travel, milage points, and elevation gains and declines.
8 Mile Trail Course (Miles 5-8) Map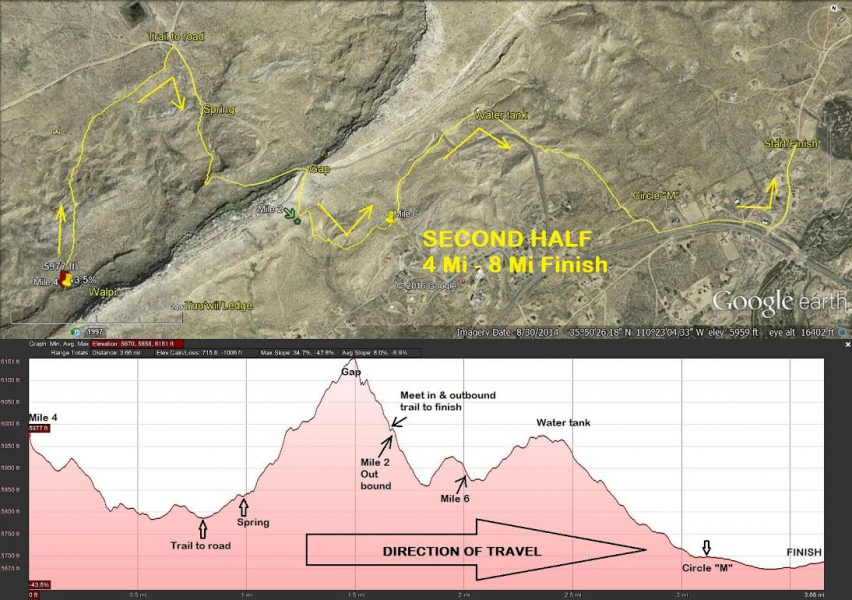 Join this event and invite your friends on Facebook.