The California Classic Half Marathon and the California Classic Century rides are on the same weekend again! Join us Saturday April 1st 2017 as we will host 2,000 riders as they get to experience the ONLY bike ride that closes a freeway! Then on Sunday April 2nd 2017 we will host 3,000 runners in our Half Marathon and Half Marathon Relay as participants run through African Adventure in Fresno Chaffee Zoo, with a grand finish along home-plate inside Chukchansi Stadium. Or choose our Rock and Run 5k, it doesn't go through the Zoo, but has all of the other benefits of the Half Marathon.
If you participate in both the bike event on Saturday and the Run event on Sunday you will receive a newly designed runner/biker hat and your medals interlock!

CASH PRIZES awarded in ALL AGE GROUPS for our Half-Marathon participants. Click here for details.

This year we are offering a VIP Treatment option for the Bike event with all net proceeds going to Off the Front a non profit organization who works with kids in under-served communities. Click HERE for more information.
We are proud to announce that CYCLEBAR is our 2017 sponsor of the 'CYCLEBAR' Health and Fitness Expo!

Packet Pickup:
'CYCLEBAR' Health and Fitness Expo
Friday March 31st
11:30am to 6:30pm
New Harvest Church Community Center
698 Minnewawa, Clovis, CA 93611.

Event goes on Rain or Shine. No refunds!
Chukchansi Park
1800 Tulare St
Fresno, CA US 93721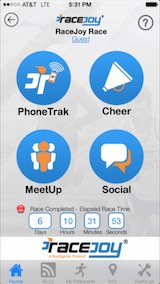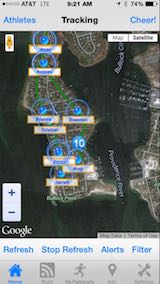 Free Live Tracking and Progress Alerts on Race Day!
(Race organizers are providing this as an included service.)
Make sure you download the RaceJoy mobile app for live phone tracking at the California Classic Weekend.
Carry your phone and use RaceJoy to add to your race experience with these key features:
GPS Progress Alerts
Receive GPS-based progress alerts at mile points on the course for current pace and estimated finish time.
Post to your Facebook and Twitter walls.
Have friends and family track your performance.
Live GPS Tracking
Supporting spectators can track your blue dot moving along the course from home or at the race site.
NearMe proximity alerts notify spectators when you are drawing near.
Find each other using RaceJoy's MeetUp tool.
Send-a-Cheer
Receive fun, motivational audio cheers from your supporting fans.
Start sending cheers to others doing the race at any time.
The California Classic Weekend is sponsoring RaceJoy to provide participants and spectators these features for free (normally a 99 cents upgrade fee for both the participant and spectator).
Note:
- Participant must carry phone
- No official race timing information is provided for this race in RaceJoy

If you have any questions about this race, click the button below.
Questions?