Event
Time
Price
Details
Half Marathon

Time

6:30AM EDT

-

10:30AM EDT

Price

$80

Price increases July 31, 2017 at 11:59pm EDT
5k

Time

7:00AM EDT

-

8:30AM EDT

Price

$35

Price increases July 31, 2017 at 11:59pm EDT
1 Mile Fun Run

Time

8:00AM EDT

-

8:30AM EDT

Price

$10

Price increases July 31, 2017 at 11:59pm EDT
910 3rd Ave. W.
Bradenton, FL US 34205
The one & only 13-miler in gorgeous Manatee County. A Hernando DeSoto Historical Society Signature Event.The fun kicks off at 6:30am in downtown Bradenton. As the course proceeds to Manatee Avenue, the Green Bridge challenge begins. Run over the mile-wide Manatee River, through historic Palmetto then back over the bridge. Continue along Bradenton's main thoroughfare before turning onto Riverview Boulevard to gape at the stately waterfront homes. A couple more turns until you finish in downtown Bradenton, just before the start of the Farmer's Market!
Post-race hospitality will be top notch, complete with massages (10 minutes folks, we've got a lot of people to rub down!), craft beer and recovery fuel (i.e. tasty food). So, START TRAINING and GET SIGNED UP ASAP! Be a part of the 2nd Annual Conquistador Half Marathon (formerly the Bradenton Area Half Marathon)!!! We are looking forward to seeing you out here!
If you have any questions about this race, click the button below.
Questions?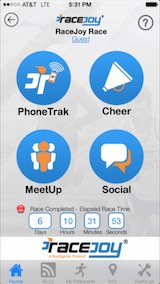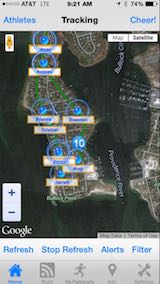 Free Live Tracking and Progress Alerts on Race Day!
(Race organizers are providing this as an included service.)
Make sure you download the RaceJoy mobile app for live phone tracking at the Conquistador Half Marathon.
Carry your phone and use RaceJoy to add to your race experience with these key features:
GPS Progress Alerts
Receive GPS-based progress alerts at mile points on the course for current pace and estimated finish time.
Post to your Facebook and Twitter walls.
Have friends and family track your performance.
Live GPS Tracking
Supporting spectators can track your blue dot moving along the course from home or at the race site.
NearMe proximity alerts notify spectators when you are drawing near.
Find each other using RaceJoy's MeetUp tool.
Send-a-Cheer
Receive fun, motivational audio cheers from your supporting fans.
Start sending cheers to others doing the race at any time.
The Conquistador Half Marathon is sponsoring RaceJoy to provide participants and spectators these features for free (normally a 99 cents upgrade fee for both the participant and spectator).
Note:
- Participant must carry phone
- No official race timing information is provided for this race in RaceJoy