Presented by Halifax Health and part of the Live Your Life Well Series this race benefits Team RWB, an amazing veterans support group with chapters around the world. Come join us and run/walk the 4 mile or 7 mile distance. Beautiful race medals to ALL FINISHERS and awesome Team RWB shirts to the first 400 registrants for the 4 and 7 mile event. We've also got great awards too!
Celebrate 7/4 by running or walking 7 or 4 miles with Team RWB on the World's Most Famous Beach in Daytona, FL. The out-and-back course will start and end at Breaker's Oceanfront Park. Participants will enjoy running on the hard-packed sands of the beach. If you can't get to the race, there will be a virtual option opening May 1st. Race swag & medal will be mailed to you. Proceeds will benefit Team RWB Veterans Organization. We encourage everyone from runners to walkers to come and enjoy a great day on the beach with friends and family on America's birthday. 7 mile runners must complete the race within 2 hours on race day.
Registration for the Virtual Race is now open on the Team RWB National site. Please follow the link below to register.
https://www.crowdrise.com/EagleCharge
Awards will be given to: Top Overall Male & Female; Top Overall Male & Female Masters; Top 3 Male & Female in each Age Group: 9 & Under; 10-17; 18-24; 25-29; 30-34; 35-39; 40-44; 45-49; 50-54; 55-59; 60-64; 65-69; 70-74; 75+
Team RWB's mission is to enrich the lives of America's veterans by connecting them to their community through physical and social activity.
Eagle Ethos
Words like values and culture are incredibly important when building an organization. At Team RWB we have certainly created a strong culture – one of support, encouragement, and inclusiveness. And we definitely have strong values – we are transparent, responsible, and honest. While just about every organization strives to uphold a certain set of values and to foster a certain culture, our Team is special.
What is an Ethos:
Team RWB members share more than just values. We share an ethos – a set of guiding beliefs and ideals that characterize our community. An ethos persuades or inspires people to action…and that is what our organization is all about. While ethos can be sometimes hard to define, you certainly know it when you see it. Ethos is demonstrated, not stated.
The Eagle Ethos:
The Eagle Ethos was crafted using six words that uniquely characterize Team RWB and distinguish our organization from others. While there are certain principles that all nonprofits should adhere to, these are the things that make our Team special. The Eagle Ethos can be clearly captured in an instant with a single snapshot or demonstrated over time. It can be displayed outwardly or held inside as fuel for action. But it is pervasive throughout Team RWB and known intimately by each team member who puts on that red shirt. The Eagle Ethos is passion, people, positivity, commitment, camaraderie, and community…and Team RWB lives it in action every day.
+ Passion – we care more, we work harder, and we share our story
+ People – veterans and community drive everything we do
+ Positivity – we don't ignore the challenges, we just stay positive and attack them
+ Commitment – we are dedicated to each other, our mission, and our communities
+ Camaraderie – we improve lives through genuine, personal relationships
+ Community – this is what we are building…at every level
13 South Atlantic Avenue
Daytona Beach, FL US 32118
If you have any questions about this race, click the button below.
Questions?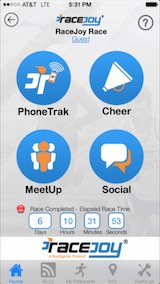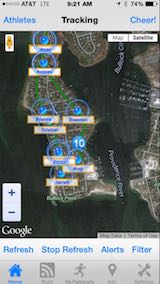 Live Tracking and Progress Alerts on Race Day!
Make sure you download the RaceJoy mobile app for live phone tracking at the Team RWB Eagle Charge 4th of July 7 & 4 Miler.
Carry your phone and use RaceJoy to add to your race experience with these key features:
GPS Progress Alerts
Receive GPS-based progress alerts at mile points on the course for current pace and estimated finish time.
Post to your Facebook and Twitter walls.
Have friends and family track your performance.
Live GPS Tracking
Supporting spectators can track your blue dot moving along the course from home or at the race site.
NearMe proximity alerts notify spectators when you are drawing near.
Find each other using RaceJoy's MeetUp tool.
Send-a-Cheer
Receive fun, motivational audio cheers from your supporting fans.
Start sending cheers to others doing the race at any time.
Note:
- 99 cents per race upgrade fee for both participant and spectator
- Participant must carry phone
- No official race timing information is provided for this race in RaceJoy

A big thank you goes to Mike Moncrief for sharing this great video of our 2016 event.