Event
Time
Price
Details
Marathon

Time

7:20AM MDT

Price

$80

Price increases May 31, 2017 at 11:59pm MDT
Bogus Basin Rd
Boise, ID US 83702
Event Schedule
Pre-Race Day Check-In (Packet Pick-Up) at TownePlace Suites, 1415 S Eagle Rd, Meridian, ID
September 8: Noon - 7pm
Race Day Check-In (Packet Pick-Up at Riverglen Junior High, 6801 N Gary Ln, Garden City, ID 83714):
September 9: 5:00 - 5:45 am

Buses to the start (Pick up at Riverglen Junior High, 6801 N Gary Ln, Garden City, ID 83714):
Marathon: 5:30 - 6:00 am

Race Start (Pioneer Condos at Bogus Basin Ski Resort, 1750 N Bogus Basin Rd, Horseshoe Bend, ID 83629):
Marathon: 7:20 am

Aid Stations
Eleven of them, serving water, gatorade, gu, and a variety of food options.
Our host hotel that gives our runners significant discounts for staying with them:TownePlace Suites Boise West/Meridian, 1415 S Eagle Rd, Meridian, ID 83642
Parking / Buses
Pick up at Riverglen Junior High, 6801 N Gary Ln, Garden City, ID 83714. Plenty of parking lot parking is available, as well as street parking on Gillis Rd. Please be there before 6:00am, it's an uphill climb for the buses. You are welcome to have someone drop you off at the start instead of taking a bus up, we just ask that drivers take off before the race starts so they aren't driving through all of the runners to get back down.
Stoplights / Intersections
The intersections you cross that involve stoplights will be controlled by certified flaggers, as long as you are on pace for finishing the marathon in 6 hours or less. Those that are slower than a 6 hour pace will have to follow proper traffic laws their last few miles.


What type of course is this?
This is primarily a road course, over 24 miles are paved and the out and back section a couple miles in are packed gravel / dirt. It is fast, most of it being downhill for the first 20 miles. We really encourage you to do at least some downhill training before race day. You will have a very decent shot at a PR or BQ as long as you know what to expect from a largely downhill course.


Is it really that fast?
Well findmymarathon.com thinks so - check out their comparison calculator and fastest marathon list as well while you're there.


Can I camp up at the start?
There is the Pioneer Condominiums which may have some availability as well as the Shafer Butte Campground. Pioneer Condos you could basically walk out your front door and be at the starting line. Just make sure you've got a ride back up there after you finish.


Are there portapotties at the start?
Yes we will have enough for everyone to take their "nervous bladder just before the race starts" pee. =)
Can I qualify for Boston on this course?
Yes this is a Boston qualifying course USATF certified course.
If you have any questions about this race, click the button below.
Questions?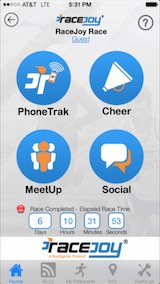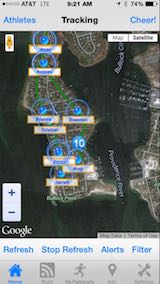 Free Live Tracking and Progress Alerts on Race Day!
(Race organizers are providing this as an included service.)
Make sure you download the RaceJoy mobile app for live phone tracking at the Freakin Fast Marathon.
Carry your phone and use RaceJoy to add to your race experience with these key features:
GPS Progress Alerts
Receive GPS-based progress alerts at mile points on the course for current pace and estimated finish time.
Post to your Facebook and Twitter walls.
Have friends and family track your performance.
Live GPS Tracking
Supporting spectators can track your blue dot moving along the course from home or at the race site.
NearMe proximity alerts notify spectators when you are drawing near.
Find each other using RaceJoy's MeetUp tool.
Send-a-Cheer
Receive fun, motivational audio cheers from your supporting fans.
Start sending cheers to others doing the race at any time.
The Freakin Fast Marathon is sponsoring RaceJoy to provide participants and spectators these features for free (normally a 99 cents upgrade fee for both the participant and spectator).
Note:
- Participant must carry phone
- No official race timing information is provided for this race in RaceJoy