1 Main St
Alto Pass, IL US 62905
The locals have been doing long painful adventure rides for several years. We call them the "Dirty South" rides. These rides are a mix of pavement, gravel, dirt, mud and sometimes water. We continue to look for the most hills, most gravel and most painful route we can put together each year. Until now, all of these rides have just been large group rides. Some people want to hit it hard, some want to ride a casual pace and chat, and some just want to see if they can finish. Many people have been asking for a race…. So, here it is. The first Dirty South Race in the far South end of Illinois. Most people think Illinois is flat. Well, not so much down here in the Southern tip. There will be some flat sections of the course, but it will be littered with gravel and potholes. The course will be 100K + and will not disappoint. My Garmin claims last year's route involved over 4,000' of elevation gain. My legs didn't argue. If you are looking for an awesome route, great challenge, killer scenery, beer, food and cool peeps to hang out with for a day, come check it out.
If you have any questions about this race, click the button below.
Questions?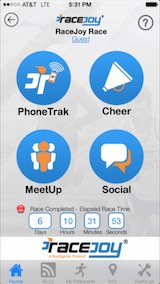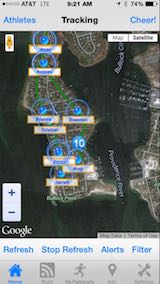 Free Live Tracking and Progress Alerts on Race Day!
(Race organizers are providing this as an included service.)
Make sure you download the RaceJoy mobile app for live phone tracking at The Dirty South Roubaix 100k+.
Carry your phone and use RaceJoy to add to your race experience with these key features:
GPS Progress Alerts
Receive GPS-based progress alerts at mile points on the course for current pace and estimated finish time.
Post to your Facebook and Twitter walls.
Have friends and family track your performance.
Live GPS Tracking
Supporting spectators can track your blue dot moving along the course from home or at the race site.
NearMe proximity alerts notify spectators when you are drawing near.
Find each other using RaceJoy's MeetUp tool.
Send-a-Cheer
Receive fun, motivational audio cheers from your supporting fans.
Start sending cheers to others doing the race at any time.
The Dirty South Roubaix 100k+ is sponsoring RaceJoy to provide participants and spectators these features for free (normally a 99 cents upgrade fee for both the participant and spectator).
Note:
- Participant must carry phone
- No official race timing information is provided for this race in RaceJoy

GPX file will be provided before the race. Cue sheets will be provided and turns will be marked. The course will be on open roads, so there may be vehicle traffic in areas. Road surfaces will be buttery smooth asphalt, chipseal, smooth gravel, chunky gravel and dirt. You are advised to use good judgement and make safe decisions during the race. The distance will be at least 100K. There will likely be pain and suffering.
There will be at least 2 sag stops with hydration and nutrition. At least one of these stops will have a wrench from the Bike Surgeon in Carbondale to help anyone out who needs it. We will shuttle a SAG bag with your own food/drink/gear to the stops before the race if you would like. There will also be a sweep vehicle to pick up anyone who needs a ride back to the start/finish area.
Most of us ride cross bikes with light knobbies or file treads on these rides. Many of us would ride a gravel bike if we had it, but we don't, so a CX bike does just fine. Some people ride MTBs with light knobbies. If I had to suggest a bike to ride on this course, it would be a gravel/cyclocross bike. Tubeless is the way to go for me, it may not be for you. It all comes down to riding something you are comfortable on and you trust to get you through the day.
The race will start and finish in Alto Pass Illinois at the village park. They have a large pavilion with a stone fireplace, heated restrooms, a little hiking trail and even a playground if you get bored. If the weather turns out terrible, the village hall is just across the street and we will have access to that if needed. There are a couple areas on the course that a cheering/heckling/hand-up group could assemble. Our goal is for this to be a fun event that people want to come back for another one next year. Ultimate goal is a series of races using different areas of SoIL as we have been doing with our rides for several years.
We are planning to have a drone photographer along with land based photogs for the race.
A portion of the proceeds from this event will go towards the Mountain Bike Trails at Touch of Nature.
We will do a packet pick-up the night before at a local establishment with local brews and eats. There will also be morning of packet pick-up at the race start/finish area. There will be cool T-shirts and other swag with your entry. There will be prizes for top finishers in each category.
Food will be provided to race participants after the race. I can tell you this much so far – It will be hot food, it will be good food, and it will be included with your race entry.
Lodging options will be shared on the event page for anyone looking to stay local. There are many cabins and B&B in the area on the wine trail. Hotels in Carbondale, Anna or Murphysboro aren't too far away either.