Hononegah High School, 307 Salem Street
Rockton, IL US 61072
Run for Carrie Lynn....
Times

Packet Pick-up: 7:00-7:45 am
Colors Presentation & National Anthem: 7:50 am
Runner Start: 8:00 am
Walker Start: 8:10 am
Course Closes: 9:10 am
Awards Presentation & Breakfast: 9:00-11:00 am (awards start at 9:30 am)
OSD Parade Start: 12:00 pm
Course
The 5k Course will Start and Finish at HHS - south parking lot. The out-and-back course runs east bound on the Rockton Bike Path to the turnaround at Hononegah Forest Preserve entrance, then west bound back to HHS. The course is USATF certified. Final documents and mapping can be found on our course page.
How to Register
Registration can be completed through our mail-in form or through our (preferred method) secured online registration service.

Mail-In—Complete the registration form (PDF-Page #2) and mail the form with payment to: Rockton PD, Sgt. Dean Camacho, 110 East Main Street, Rockton, IL 61072. Payment must be made in check, payable to Rockton Lions OSD5K.

Online—Click on the RunSignUp.com link from our website or scan the posted QR to complete the short process.

Registration confirmation and payment receipt will be forwarded to all registrants by email. Early-registration will close on June 1st, 2016. Shirts/swag will not be provided for late registrants unless available. No refunds or exchanges will be allowed.

Registration Fee
Adult - $30
Child - $20 - (Child = 12 years of age and under)
Late Registration - $40 - (After 6/1/2016)
350 Maximum Participants
Swag
Participants will receive the 2016 OSD5K Tech-shirt (male/female sizing), OSD 4-day Festival Pass, OSD5K Water Bottle, Free admission to the Rockton Firemen's Association Pancake Breakfast and other race related goodies in their OSD5K Swag Bag.
Results
Professional electronic bib-chip timing will be provided to all registered participants by RealTiming, Inc. See our results page for more information on bib-chip timing and OSD5K race results on the day of the race.
Age Divisions
8 & under, 9-10, 11-12, 13-14, 15-19, 20-24, 25-29, 30-34, 35-39, 40-44, 45-49, 50-54, 55-59, 60-64, 65-69, 70+
Awards - OSD5K Medal & Winner Concert Badge
1. Top overall male & female finishers will receive the 2016 OSD5K Medal & a Meet & Greet Pass for the main performer that evening.
2. 1st place male & female finishers of each age division will receive the 2016 OSD5K Medal.
3. 2nd and 3rd place male & female finishers of each age division will receive the Winner Concert Badge.
The Medal and Winner Concert Badge allow FREE entry to the Festival and Concert stages on Saturday, 6/18.
Our Run Charity
All proceeds from the OSD5K Run-Walk & Rockton Firemen's Association Pancake Breakfast will benefit the Carrie Lynn Children's Center. Please see our charity page to learn more about the center and what they do for both Winnebago and Boone County residents.
2014 OSD5K Donation: $3,800.00
2015 OSD5K Donation: $6,000.00
Parking
Free parking will be provided in the north portion of the Hononegah High School main parking lot. Registrants and guests are encouraged to car pool to save space since a portion of the lot will be barricaded for the race activities. Please enter the parking lot from the Salem Street entrance (west side of campus). The main entrance on East Main Street will be closed to protect runners/walkers. Follow the OSD5K Course link for directions.
Merchandise
OSD5K merchandise will be for sale from our secured online store until 6/1/2015. Contact us by phone or email with questions.
Early Packet Pick-Up & Late Registration
Early packet pick-up and late registration will be offered on, June 15th & 16th, 2015, between 3-7pm at Macktown Insurance, 301 East Main Street in Rockton.
If you have any questions about this race, click the button below.
Questions?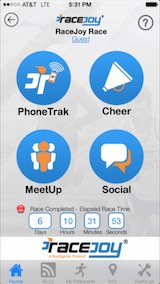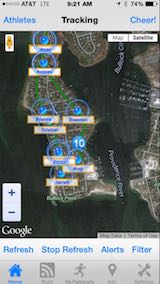 Live Tracking and Progress Alerts on Race Day!
Make sure you download the RaceJoy mobile app for live phone tracking at Rockton Lions Old Settler's Days 5k.
Carry your phone and use RaceJoy to add to your race experience with these key features:
GPS Progress Alerts
Receive GPS-based progress alerts at mile points on the course for current pace and estimated finish time.
Post to your Facebook and Twitter walls.
Have friends and family track your performance.
Live GPS Tracking
Supporting spectators can track your blue dot moving along the course from home or at the race site.
NearMe proximity alerts notify spectators when you are drawing near.
Find each other using RaceJoy's MeetUp tool.
Send-a-Cheer
Receive fun, motivational audio cheers from your supporting fans.
Start sending cheers to others doing the race at any time.
Note:
- 99 cents per race upgrade fee for both participant and spectator
- Participant must carry phone
- No official race timing information is provided for this race in RaceJoy

Join this event and invite your friends on Facebook.