19401 Allisonville Road
Noblesville, IN US 46060
Website/Registration: http://bit.ly/2015beaver5k
fb: http://bit.ly/2015beaverfb
Everyone loves beavers! Now in it's 3rd year, the Beaver Moon Twilight 5K celebrates the new Beaver Moon, with a 5K competitive, chip-timed run and walk on November 14. Come join us for a great evening run in Noblesville, score an awesome event shirt, and receive a custom finisher medal when you cross the finish line!

The New Beaver Moon Twilight 5K name comes from the Native American name for the November moon. Moon names helped kept track of the seasons by giving distinctive names to each recurring full Moon. The November full moon was the time to set beaver traps before the swamps froze, to ensure a supply of warm winter furs.

This 5K run/walk, starting at 4:30PM, starts by running across Potter's Bridge, the only remaining covered bridge in Hamilton County, then winds along the White River on the White River Greenway Trail, from Potter's Bridge south to Field Drive, returning to Potter's Bridge Park just before dusk.

The sunset at 5:28 PM should lend for a beautiful evening run, though with the new moon phase, it will get dark quickly - incentive to run faster! Make sure you keep an eye out for the beavers in the river while you run, walk or skip your way through the beautiful tree lined pathway. A portion of the proceeds from this race go towards the Friends of Hamilton County Parks Foundation.

The deadline to register to guarantee you get a Beaver Moon t-shirt is Thursday, November 5, 2015 at Midnight. These are high-quality, long-sleeve, tech-fabric t-shirts with an awesome design – please register early to guarantee a shirt!
If you have any questions about this race, click the button below.
Questions?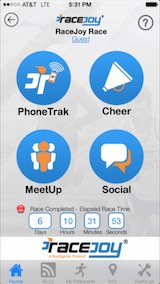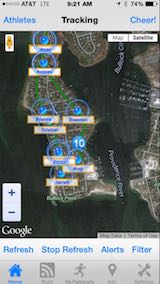 Live Tracking and Progress Alerts on Race Day!
Make sure you download the RaceJoy mobile app for live phone tracking at the New Beaver Moon Twilight 5K Run.
Carry your phone and use RaceJoy to add to your race experience with these key features:
GPS Progress Alerts
Receive GPS-based progress alerts at mile points on the course for current pace and estimated finish time.
Post to your Facebook and Twitter walls.
Have friends and family track your performance.
Live GPS Tracking
Supporting spectators can track your blue dot moving along the course from home or at the race site.
NearMe proximity alerts notify spectators when you are drawing near.
Find each other using RaceJoy's MeetUp tool.
Send-a-Cheer
Receive fun, motivational audio cheers from your supporting fans.
Start sending cheers to others doing the race at any time.
Note:
- 99 cents per race upgrade fee for both participant and spectator
- Participant must carry phone
- No official race timing information is provided for this race in RaceJoy