100 W Broadway Street
Frankfort, KY US 40601
Join us for the 3rd Annual KY History Half, 10K, and 5K in Frankfort, Kentucky on Saturday, September 30, 2017 at 8am. The KY History Half is the Commonwealth's first half marathon that celebrates Kentucky's history. Proceeds go to the Kentucky Historical Society Foundation to support the educational programming and services of the Kentucky Historical Society.
All finishers in all three races receive a commemorative KY History race medal.
Half marathon, 10K and 5K participants may visit the race store to add an IMO ('In Memory Of") option (includes an IMO bib) to their registration for an additional fee: IMO participants run or walk in memory of a loved one, friend or event.
Pre-race day activities on Friday, September 29th invite participants, their families and fans to "Discover Frankfort." The 2016 event featured historic tours, a trolley ride along the race course, Art Walk, Frankfort Tourism Open House, a pasta dinnner and discounts for runners offered by many local businesses. Check back to see what's in store for 2017.
Bring the kids! There will also be lots of activities for the family on race day. Children can participate in an amazing race, searching for facts and artifacts in our fascinating exhibit that covers Kentucky's emergence from prehistoric times to the present (so bring your water bottle!). Free, no prior signup needed.
For complete information click here: www.kyhistoryhalf.com
If you have any questions about this race, click the button below.
Questions?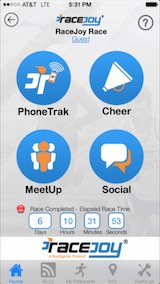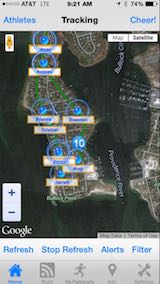 Free Live Tracking and Progress Alerts on Race Day!
(Race organizers are providing this as an included service.)
Make sure you download the RaceJoy mobile app for live phone tracking at the KY History Half Marathon, 10K and 5k.
Carry your phone and use RaceJoy to add to your race experience with these key features:
GPS Progress Alerts
Receive GPS-based progress alerts at mile points on the course for current pace and estimated finish time.
Post to your Facebook and Twitter walls.
Have friends and family track your performance.
Live GPS Tracking
Supporting spectators can track your blue dot moving along the course from home or at the race site.
NearMe proximity alerts notify spectators when you are drawing near.
Find each other using RaceJoy's MeetUp tool.
Send-a-Cheer
Receive fun, motivational audio cheers from your supporting fans.
Start sending cheers to others doing the race at any time.
The KY History Half Marathon, 10K and 5k is sponsoring RaceJoy to provide participants and spectators these features for free (normally a 99 cents upgrade fee for both the participant and spectator).
Note:
- Participant must carry phone
- No official race timing information is provided for this race in RaceJoy

Get a Refund By Referring Friends to the KY History Half Marathon, 10K, and 5K!
Help us make the 2017 KY History Half even bigger and better! Once you register, use your unique referral code on social media to encourage your friends to run in the KY History Half Marathon, 10K, and 5K.
-Half Marathon runners will automatically earn a $25 refund for every 5 friends who register.
-10K runners will automatically earn a $15 refund for every 5 friends who register.
-5K runners will automaticallyh earn a $10 refund for every 5 friends who register.
*Refunds may not exceed registration fee.
Like this page and invite your friends on Facebook.