Join us on Saturday, May 20, 2017 for the 3rd Annual Horse Capital Marathon & Half Marathon. Run on one of the most beautiful marathon/half marathon courses in the United States.
This race will be staged in Lexington, Kentucky commonly referred to as the Horse Capital of the World. Our Marathon/Half Marathon will begin at 7am at Fasig Tipton (2400 Newtown Pike, Lexington, KY 40511).
Technical race shirts, finishers medals, Kentucky crafted awards, overall & AG awards, live music, post race food and more! Walkers welcomed for the Horse Capital Half Marathon. Sign up by May 3rd to ensure you get a commemorative shirt.
The Marathon & Half Marathon will have a 14 minute 30 second/mile pace limit (6 hours, 15 min total) and will be a certified course. The marathon is a Boston Marathon Qualifier race.
Dates and information on the race website www.horsecapitalmarathon.com . Also follow us on FaceBook at https://www.facebook.com/horsecapitalmarathon
2400 Newtown Pike
Lexington, KY US 40511
Event
Time
Price
Details
Horse Capital Marathon

Time

7:00AM EDT

-

1:00PM EDT

Price

$100

Registration ends May 19, 2017 at 8:24pm EDT
Horse Capital Half Marathon

Time

7:00AM EDT

-

1:00PM EDT

Price

$90

Registration ends May 19, 2017 at 8:00pm EDT
Volunteers

Time

7:00AM EDT

-

1:00PM EDT

Price

$0

Registration ends May 19, 2017 at 11:59pm EDT
If you have any questions about this race, click the button below.
Questions?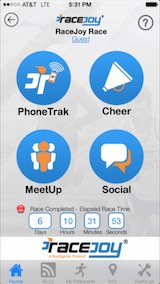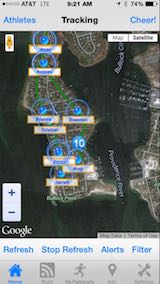 Free Live Tracking and Progress Alerts on Race Day!
(Race organizers are providing this as an included service.)
Make sure you download the RaceJoy mobile app for live phone tracking at the Horse Capital Marathon & Half Marathon.
Carry your phone and use RaceJoy to add to your race experience with these key features:
GPS Progress Alerts
Receive GPS-based progress alerts at mile points on the course for current pace and estimated finish time.
Post to your Facebook and Twitter walls.
Have friends and family track your performance.
Live GPS Tracking
Supporting spectators can track your blue dot moving along the course from home or at the race site.
NearMe proximity alerts notify spectators when you are drawing near.
Find each other using RaceJoy's MeetUp tool.
Send-a-Cheer
Receive fun, motivational audio cheers from your supporting fans.
Start sending cheers to others doing the race at any time.
The Horse Capital Marathon & Half Marathon is sponsoring RaceJoy to provide participants and spectators these features for free (normally a 99 cents upgrade fee for both the participant and spectator).
Note:
- Participant must carry phone
- No official race timing information is provided for this race in RaceJoy

Our Course - Scenic Central Kentucky - 40+ Horse Farms Along The Way
This is a quick 2 minute time lapse video of our Horse Capital Half Marathon course.
Like this page and invite your friends on Facebook.