Start & Finish: Main Street outside the Evan Williams Bourbon Experience
The Urban Bourbon Half Marathon is a 13.1 mile race that starts on the historic Main Street in downtown Louisville, follows Cherokee Park's Scenic Loop and finishes back on Main Street in front of the Evan Williams Bourbon Experience - with great scenery, music and entertainment along the way. Participants in the Half Marathon and Corporate Challenge will receive long-sleeve tech shirts, virtual goodie bags, unique bourbon-themed medals and entry into the post-race Urban Bourbon Bash. In the Urban Bourbon Bash, all registrants will receive bourbon samples, Kentucky Ale beer, and hot food including Kentucky burgoo and a slice of Bearno's pizza. Walkers may participate, but must be able to keep a 15:00 minute per mile pace in the Half Marathon since roads will reopen at this pace.

Since our Urban Bourbon Half Marathon is meant for those age 21 or older, includes bourbon and bourbon-themed medals, you must be 21 or older on Oct. 21, 2017 to register. Online registration will close at 11:59 pm on Oct. 17, 2017. For more information, visit our website: www.urbanbourbonhalf.com.
If you have any questions about this race, click the button below.
Questions?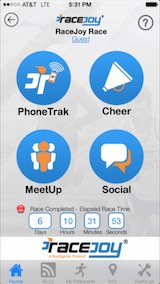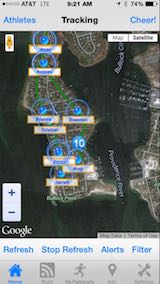 Free Live Tracking and Progress Alerts on Race Day!
(Race organizers are providing this as an included service.)
Make sure you download the RaceJoy mobile app for live phone tracking at the Urban Bourbon Half Marathon.
Carry your phone and use RaceJoy to add to your race experience with these key features:
GPS Progress Alerts
Receive GPS-based progress alerts at mile points on the course for current pace and estimated finish time.
Post to your Facebook and Twitter walls.
Have friends and family track your performance.
Live GPS Tracking
Supporting spectators can track your blue dot moving along the course from home or at the race site.
NearMe proximity alerts notify spectators when you are drawing near.
Find each other using RaceJoy's MeetUp tool.
Send-a-Cheer
Receive fun, motivational audio cheers from your supporting fans.
Start sending cheers to others doing the race at any time.
The Urban Bourbon Half Marathon is sponsoring RaceJoy to provide participants and spectators these features for free (normally a 99 cents upgrade fee for both the participant and spectator).
Note:
- Participant must carry phone
- No official race timing information is provided for this race in RaceJoy