Sunday September 13, 2015
Get Directions
This is a service fee for processing your race application.
Lake Auburn Half Marathon, 5K
The LAHM is a major non-profit event to raise money for the Moving ME Forward Foundation. The Foundation has two purposes which is to continue to create wellness opportunities promoting Health for Familys in our community and to raise dollars for youth programs . Last year in our third year we were able to give over $10000.00 to programs that supported youth in our community. These included homeless teenagers, disadvantaged youth, area athletics, a high school military cadet program, and helped purchase equipment for the Blue Wave youth basketball program.The major beneficiary in 2014 was Good Sheapard Food Bank. The Half Marathon will take a trip around Lake Auburn on closed roads with the 1/2 running past awesome views of the lake. There will be a packet pick up at Central Maine Community College. Training schedules and race tips provided by the good folks at Central Maine Conditioning Clinic in Auburn. Take this unique opportunity to run the most scenic half marathon in Maine and support a great cause!
Lake Auburn Half Marathon
1250 Turner St.
Auburn, ME US 04210
If you have any questions about this race, click the button below.
Questions?
Take a look at the 5K Map! We're hoping for a Steel Drum Band at the Turnaround!!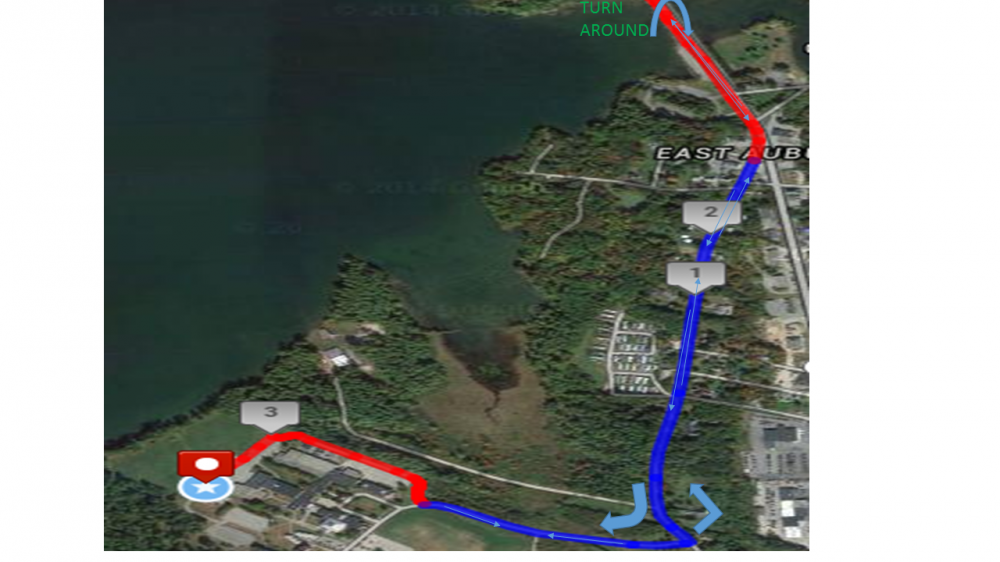 Live Tracking and Progress Alerts on Race Day!
Make sure you download the RaceJoy mobile app for live phone tracking at the Lake Auburn Half Marathon.
Carry your phone and use RaceJoy to add to your race experience with these key features:
GPS Progress Alerts
Receive GPS-based progress alerts at mile points on the course for current pace and estimated finish time.
Post to your Facebook and Twitter walls.
Have friends and family track your performance.
Live GPS Tracking
Supporting spectators can track your blue dot moving along the course from home or at the race site.
NearMe proximity alerts notify spectators when you are drawing near.
Find each other using RaceJoy's MeetUp tool.
Send-a-Cheer
Receive fun, motivational audio cheers from your supporting fans.
Start sending cheers to others doing the race at any time.
Note:
- 99 cents per race upgrade fee for both participant and spectator
- Participant must carry phone
- No official race timing information is provided for this race in RaceJoy

Like this page and invite your friends on Facebook.