Event
Time
Price
Details
5K Run

Time

6:30PM EDT

-

8:00PM EDT

Price

$25

Price increases May 20, 2017 at 11:59pm EDT
5K Walk Timed

Time

6:30PM EDT

-

8:00PM EDT

Price

$25

Price increases May 20, 2017 at 11:59pm EDT
"0.0" K

Time

6:30PM EDT

-

8:00PM EDT

Price

$20

Registration closes on May 20, 2017 at 11:59pm EDT and re-opens on May 21, 2017 at 12:00am EDT
1 Mile Walk

Time

6:35PM EDT

-

8:00PM EDT

Price

$20

Price increases May 20, 2017 at 11:59pm EDT
12500 Holly Rd
Grand Blanc East Hign School
Grand Blanc, MI US 48439
This is a fast 5K event with separate run and walk divisions. Both divisions are timed- if you plan to run any portion- please sign up for the Run event. We will start the race with a huge balloon release honoring those that fight and/or support those that fight this disease. The course winds through the Grand Blanc High School campus, and includes a lap around the track. Entry fee includes race goody bag and cotton race T-shirt. (Techinal shirt available for $5-7 additional). There is a One Mile Walk, not timed- perfect for families , stollers, and anyone who just doesn't feel up to 3.1 miles. We also have a "0.0" division for those who want to support the cause but don't want to run or walk. All participants over 21 get a wrist band for free admission to the beer tent at the Grand Blanc Fun Fest, within walking distance. All particpants will also receive a free ride ticket for the carnival at the Fun Fest! 100% of proceeds from this race support the Michigan Ovarian Cancer Alliance. We recognize the courage of all cancer survivors/fighters, wear your color and come join us! Get a race in on Friday and enjoy the weekend. This is a part of the Crim Training Program. Medals for 1st and 2nd place in all standard age divisions. Ronald McDonald will there along with great post race refreshments. Create a team or come on your own!
Established in 2011, the Michigan Ovarian Cancer Alliance promotes saving women's lives through early detection of ovarian cancer and improved treatment outcomes. In addition to community outreach and education, MIOCA provides advocacy, resources and support throughout Michigan. As a Teal Track and Trail participant, you can use your running/walking prowess to fundraise for MIOCA and help women. To create your own fundraising page for the Teal Track and Trail 5K Run/Walk and One Mile Family Walk, go to https://mioca.myetap.org/fundraiser/tealtrackandtrail/. (Please copy and paste the link.) There are prizes for the top fundraisers! For more information about this worthwhile organization, visit the MIOCA website. Please consider joining survivors, supporters and honoring the memories of those taken by entering the Teal Track and Trail 5K on June 9, 2017, 6:30 PM at the Grand Blanc High School.
If you have any questions about this race, click the button below.
Questions?
See below for the course map or click on the Map My Run link below as well.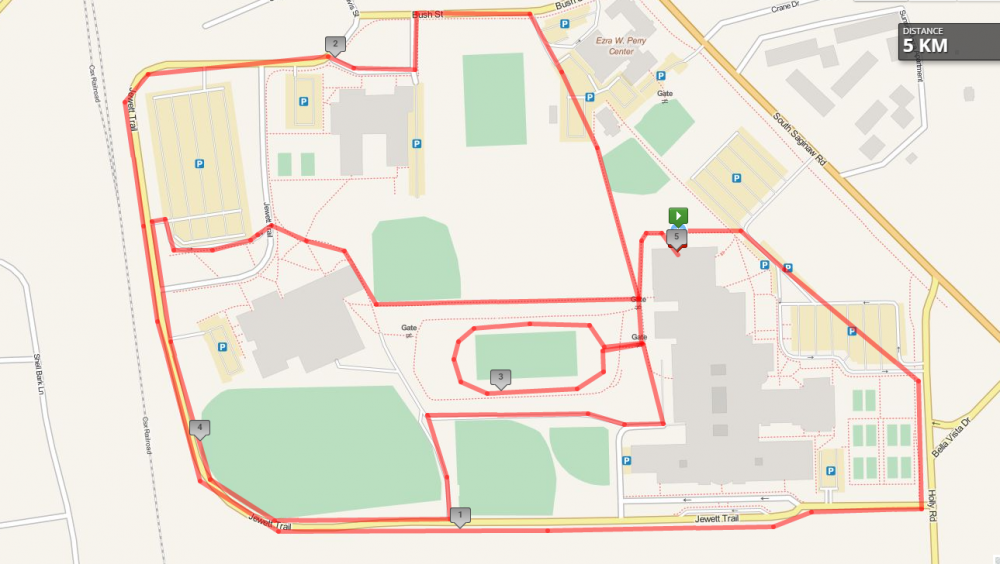 Like this page and invite your friends on Facebook.