Event
Time
Price
Details
Run Thru Hell 8K

Time

9:00AM EDT

Price

$25

Price increases September 27, 2017 at 11:59pm EDT
Run Thru Hell 5K

Time

9:05AM EDT

Price

$20

Price increases September 27, 2017 at 11:59pm EDT
Little Hellions Loop

Time

10:15AM EDT

Price

$0

Registration ends October 22, 2017 at 9:00am EDT
A Virtual Hell

Price

$25

Registration Opens July 27, 2017 at 10:31am EDT

10866 Cedar Lake Rd
Pinckney, MI US 48169
Shirts NOT guaranteed after October 5th!!! Please register early. We will be capping the race at 500 this year!
Come run thru Hell, Michigan for a spooktacular time! Located at Hell Creek Ranch in Pinckney, MI you can run the 8K (5 Mile) course or the newly added 5k course! Portion of the proceeds go to benefit Road Warriors Corp 501c3
Fun atmosphere, bonfire, rag meat, beer, costumes, and smiles. Race start time is 9:00am on Oct 23rd, 2016
Since 2013 we have raised $5,350.00.
Our Michigan beneficiaries have been
2014 Andrew Johnson - 29:47 - Howell Fire Department
2015 Dan Flanders - 38:47 - Oxford Fire Department
We will have packet pick up at the Running Lab in downtown Brighton, MI on Friday the 21st Noon - 8pm and Saturday the 22tnd 10am - 6pm. Race Day registration and packet pick up will be from 8:00am - 8:50am.
There will be $100 for anyone who breaks the course record for the 5K and 8K.
Female 5K Jennifer Snelgrove 18:58 2011
Male 5K James Rogers 16:02 2014
Female 8K Karen Killian 32:38 2015
Male 8K Mike Andersen 25:39 2013
If you have any questions about this race, click the button below.
Questions?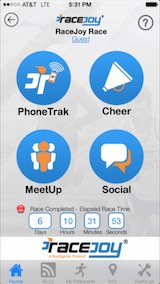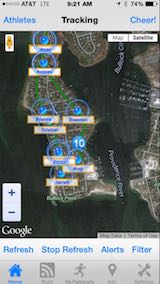 Free Live Tracking and Progress Alerts on Race Day!
(Race organizers are providing this as an included service.)
Make sure you download the RaceJoy mobile app for live phone tracking at the Run Thru Hell Halloween.
Carry your phone and use RaceJoy to add to your race experience with these key features:
GPS Progress Alerts
Receive GPS-based progress alerts at mile points on the course for current pace and estimated finish time.
Post to your Facebook and Twitter walls.
Have friends and family track your performance.
Live GPS Tracking
Supporting spectators can track your blue dot moving along the course from home or at the race site.
NearMe proximity alerts notify spectators when you are drawing near.
Find each other using RaceJoy's MeetUp tool.
Send-a-Cheer
Receive fun, motivational audio cheers from your supporting fans.
Start sending cheers to others doing the race at any time.
The Run Thru Hell Halloween is sponsoring RaceJoy to provide participants and spectators these features for free (normally a 99 cents upgrade fee for both the participant and spectator).
Note:
- Participant must carry phone
- No official race timing information is provided for this race in RaceJoy

Take a picture of you in your Hell shirt and add to instagram #runthruhellhalloween
Like this page and invite your friends on Facebook.