Event
Date
Time
Price
Details
Marathon Madness Mile (remembering Eli Willis)

Date

03/24

Time

6:30PM EDT

Price

$30

Registration ends March 17, 2017 at 11:59pm EDT
5K

Date

03/25

Time

4:00PM EDT

Price

$30

Registration ends March 17, 2017 at 11:59pm EDT
Half Marathon

Date

03/25

Time

6:40AM EDT

Price

$95

Registration ends March 17, 2017 at 11:59pm EDT
Marathon

Date

03/25

Time

6:40AM EDT

Price

$110

Registration ends March 17, 2017 at 11:59pm EDT
Marathon RELAY

Date

03/25

Time

6:40AM EDT

Price

$55

Registration ends March 17, 2017 at 11:59pm EDT
601 S College Rd.
Wilmington, NC US 28403
The Quintiles Wrightsville Beach Marathon Madness presented by Landfall Realty is more than a race…with world class shopping, beautiful beaches, famous restaurants and a historic downtown waterfront, why make it just a race when you can make it a memorable race experience? It is March and what better these than Marathon Madness!
Registration is now open for the 8th Annual Quintiles Marathon Marathon Madness Weekend. All races are set to kick off at 6:00 p.m, Friday, March 24, 2017, with the Half Marathon, Full Marathon and Marathon Relay Saturday morning March 25th. The event will be the largest participatory timed race in the Wilmington/Cape Fear area, and is expected to draw 4,000 competitors from dozens of states, and a spectator crowd of roughly 15,000.
Throughout this fast, flat, Boston Qualifier course, runners will be able to enjoy the scenic coastal views of Wrighsville Beach, Landfall Community, and Mayfaire Town Center. Our marathon madness theme allows for competitors to dress in their favorite college team gear and pass through college themed aid stations and tailgate stations. Each competitor and their supporters can take full advantage of all the fun offered by this world famous beach destination.
If you have any questions about this race, click the button below.
Questions?
Location: Trask Coliseum, UNCW Campus
601 S College Rd, Wilmington, NC 28403
YOU MUST PICK UP YOUR PACKET AT THE EXPO. Friends or Family can also pick up your packet for you. (No race morning packet pickup)
Expo Hours
Friday: 11:00AM to 9:00PM
START TIMES and CUTOFF TIMES
START TIMES
Official Gun Start - will be 6:40AM on Saturday March 25th.
CUTOFF TIMES
Coming Soon...
Overall and masters overall awards will be based on gun time. Age group awards will be based on chip time. You must be present to receive your award. All finishers will receive a finisher medal
Half Marathon and Marathon Overall
1st - $400
2nd - $200
3rd - $150
Masters half marathon and marathon overall
1st - $125
2nd - $100
3rd - $75
5K
Overall winners and age group winners will receive a special Marathon Madness Growler
Age Groups
Top 3 in each age group will receive a special Marathon Madness Growler from Sam Adams
Marathon Relay
Top team from each division will receive a special Marathon Madness Growler
DIVSIONS: All Male Team, All Female Team, CO-ED Team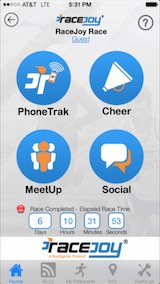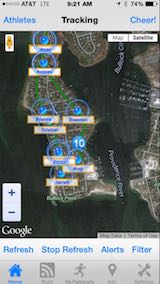 Free Live Tracking and Progress Alerts on Race Day!
(Race organizers are providing this as an included service.)
Make sure you download the RaceJoy mobile app for live phone tracking at the Quintiles Wrightsville Beach Marathon Madness.
Carry your phone and use RaceJoy to add to your race experience with these key features:
GPS Progress Alerts
Receive GPS-based progress alerts at mile points on the course for current pace and estimated finish time.
Post to your Facebook and Twitter walls.
Have friends and family track your performance.
Live GPS Tracking
Supporting spectators can track your blue dot moving along the course from home or at the race site.
NearMe proximity alerts notify spectators when you are drawing near.
Find each other using RaceJoy's MeetUp tool.
Send-a-Cheer
Receive fun, motivational audio cheers from your supporting fans.
Start sending cheers to others doing the race at any time.
The Quintiles Wrightsville Beach Marathon Madness is sponsoring RaceJoy to provide participants and spectators these features for free (normally a 99 cents upgrade fee for both the participant and spectator).
Note:
- Participant must carry phone
- No official race timing information is provided for this race in RaceJoy

Join this event and invite your friends on Facebook.