Haddonfield High School
Haddonfield, NJ US 08033
*** RACE IS SOLD-OUT FOR 2016 *** NO RACE DAY SIGN-UPS. Kids race will have race day sign up
The 11th Annual Haddonfield Adrenaline 5K Run will be held Saturday, March 19, 2016. The 5k starts at 9am in front of Haddonfield High School and is followed by a kids 1/4 mile and 100 meter races on the Haddonfield High School track.
The 5K race is USATF certified, and serves as the MidAtlantic 5K Championship. This event is sponsored by the RunningCo. of Haddonfield.
Kick off the 2016 running season with an adrenaline pumping race!!!
Note: No Race Day Team Registration.
Corporate Team Registration allows an organization to pay for their employees and families. Click on Corporate Team and Create New Team.
Competitive teams will still be the same:
3 to a team to score, no maximum. Awards to top 2 teams in each of the following categories:
- High School Club Team (Male and Female)
- Family Team
- Corporate Team
March 16-18 from 10AM - 7PM at Haddonfield Running Company, 121 Kings Highway East, Haddonfield, NJ 08033.
Race Day Packet Pickup at Haddonfield High School starting at 7AM.
****** ONLINE REGISTRATION CLOSES MIDNIGHT SUNDAY, MARCH 13 *****
*** NO RACE DAY SIGN-UPS. RACE IS SOLD-OUT FOR 2016 ***
From the Ben Franklin Bridge, take Rt. 30 East. Follow signs for "Cherry Hill". After ramp, take Route 70 East about 3 miles to Route 41 exit to Haddonfield, continue straight. After the second traffic light, Park Ave., Haddonfield High School is on your right. Follow signs for parking.
From Rt. 295, take Exit 32 - Haddonfield/Gibbsboro. At the end of the exit ramp, turn onto Route 561 West (Haddonfield/Berlin Road) towards Haddonfield. Travel straight on Route 561 for about 3 or 4 miles, make a right onto Kings Highway, Haddonfield High School is on your left. Follow signs for parking.
Top 5 Overall Male and Female Runners:
1st - $400
2nd - $250
3rd - $150
4th - $100
5th - $50
Top 3 Overall Masters Male and Female
1st - $100
2nd - $75
3rd - $50
Finishers medals for all runners. Wait til you see the 10 year anniversary design!!!
Awards to Top 3 Male and Females in the following Age Groups: Under 14, 15-19, 20-24, 25-29, 30-34, 35-39, 40-44, 45-49, 50-54, 55-59, 60-64, 65-69, 70+.
Award for first Police/Fire/EMS male and female.
If you have any questions about this race, click the button below.
Questions?
Course Overview with Dave Welsh, Erin Donahue and Joe Halin!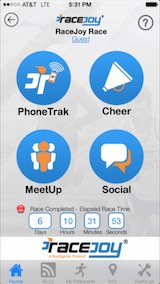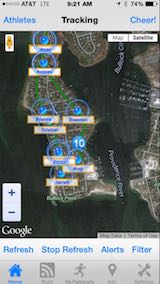 Live Tracking and Progress Alerts on Race Day!
Make sure you download the RaceJoy mobile app for live phone tracking at the Haddonfield Adrenaline 5K.
Carry your phone and use RaceJoy to add to your race experience with these key features:
GPS Progress Alerts
Receive GPS-based progress alerts at mile points on the course for current pace and estimated finish time.
Post to your Facebook and Twitter walls.
Have friends and family track your performance.
Live GPS Tracking
Supporting spectators can track your blue dot moving along the course from home or at the race site.
NearMe proximity alerts notify spectators when you are drawing near.
Find each other using RaceJoy's MeetUp tool.
Send-a-Cheer
Receive fun, motivational audio cheers from your supporting fans.
Start sending cheers to others doing the race at any time.
Note:
- 99 cents per race upgrade fee for both participant and spectator
- Participant must carry phone
- No official race timing information is provided for this race in RaceJoy