Event
Time
Price
Details
8K

Time

8:35AM EDT

Price

$30

Price increases June 3, 2016 at 5:10pm EDT
Relay Race

Time

8:35AM EDT

Price

$25

Registration ends June 3, 2016 at 11:59pm EDT
One Mile (Fun Run)

Time

8:40AM EDT

Price

$25

Registration closes on June 3, 2016 at 5:00pm EDT and re-opens on June 4, 2016 at 12:01am EDT
8K Wheelchair Race

Time

8:30AM EDT

Price

$30

Registration ends June 3, 2016 at 5:00pm EDT
Moorestown Community House 16 East Main Street
Moorestown, NJ US 08057
We have an exciting new twist to our traditional race - COFFEE!!!
In addition to the USATF Mid Atlantic Championship 8K course with watches to the top age group winners, our fun 8K Relay, our well known hospitality with free food and drinks, the beautiful tree lined course through Moorestown and the fun Moorestown Days following, we are including a jolt of Coffee!
All runners will get free hot or iced coffee courtsey of Lacas Coffee before and after the race (yes, coffee does make you faster!). All participants will also receive a free bag of Lacas Coffee!
New this year! Get a big group of your friends together to run the best Coffee Run in the Universe! Earn prizes along the way as your team size grows and join us for group training runs each Saturday morning at 8:00 am at RunningCo. of Moorestown.
Teams can Earn:
Free Asics Gear & Running Apparel
Your Favorite Running Store Gift Certificates
The Exclusive Race Brew
Massages and Refreshments
Free Coaching
First Saturday of the Month Caffeine Challenge Group Runs:
8:00 am RunningCo. of Moorestown, 115 West Main St., Moorestown
Raffles, Refreshments, and free race entry for one lucky winner!
Course Map
If you have any questions about this race, click the button below.
Questions?
The first 1,100 registrants will get a free tech t-shirt.
Packet Pickup will be at the the RunningCo of Moorestown store at 115 West Main Street in Moorestown Wednesday and Thursday from 10-7 and Friday from 10-5 the week before the race. You can also pick up your bib race day morning at the Community House starting around 7:15AM.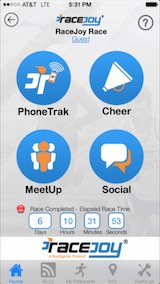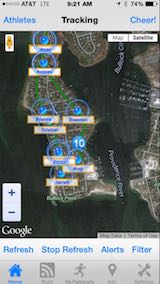 Free Live Tracking and Progress Alerts on Race Day!
(Race organizers are providing this as free service)
Make sure you download the RaceJoy mobile app for live phone tracking at the Scott Coffee Moorestown Rotary 8K Race.
Carry your phone and use RaceJoy to add to your race experience with these key features:
GPS Progress Alerts
Receive GPS-based progress alerts at mile points on the course for current pace and estimated finish time.
Post to your Facebook and Twitter walls.
Have friends and family track your performance.
Live GPS Tracking
Supporting spectators can track your blue dot moving along the course from home or at the race site.
NearMe proximity alerts notify spectators when you are drawing near.
Find each other using RaceJoy's MeetUp tool.
Send-a-Cheer
Receive fun, motivational audio cheers from your supporting fans.
Start sending cheers to others doing the race at any time.
The Scott Coffee Moorestown Rotary 8K Race is sponsoring RaceJoy to provide participants and spectators these features for free (normally a 99 cents upgrade fee for both the participant and spectator).
Note:
- Participant must carry phone
- No official race timing information is provided for this race in RaceJoy

Like this page and invite your friends on Facebook.