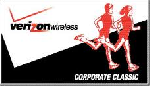 Thursday July 19, 2012
Morristown, NJ US 07960
Get Directions
This is a service fee for processing your race application. Additional technology partner fees may apply.
Headquarters Plaza Pioneer Park
Morristown, NJ US 07960
The Verizon Wireless Corporate Classic continues the tradition of hosting New Jersey's premier corporate fitness event on a weekday summer evening in downtown Morristown. It is designed primarily as an opportunity for co-workers coming from the workplace to enjoy an evening of fun and fitness in a spirit of camaraderie with their fellow employees by participating as a member of their company's corporate running team.
If you have any questions about this race, please contact the race director at