38 Station Rd
Sparta, NJ US 07871
PAPER REG AT PASTA PARTY AND SAME DAY TILL 9:15 AM. REV IT UP! 5K/10K Festival and FITNESS Expo. 8-12 noon. Presented by Rev It Up Automotive, iHeart Media and The Rev It Up Run on Saturday, April 22, with both the 5K/10K kick off at 9:30 a.m. MAPS AT WWW.REVITUPRUN.ORG. DOWNLOAD RACEJOY APP AND FRIENDS TOO TO TRACK YOUR PROGRESS. Great prizes in the 5K and 10K are awaiting for those striving for the top three prizes in both the 5K/10K men's and women's divisions. Keeping in mind that the 5K is a run and walk through beautiful neighborhoods and Station Park. We expect to attract a variety of ages and levels of runners from 7 - 80+ The 120 individual CUSTOM medals and prizes for largest 5K/10K teams. The participation of a community to benefit P.A.L. of Sparta is a great goal to accomplish on any level.
The event includes a PRE RACE PASTA PARTY from 5 - 8 p.m. on Friday at the Sparta P.A.L. sponsored by Villa Capri II, a full race day of fitness activities and entertainment: family walking, running, stroller fun. FREE food for participants at the Main Street Cafe. Merry go Round for Kids, Complimentary Sports Massage, activities,bounce house, multiple door prizes and much more fun will be on hand for everyone! Our sponsors continue to find new and innovative ways to enhance the event, and for that we are grateful. There will be Miner baseball,, nutritional vendors and more!! I would like to thank our 2017 sponsors: REV IT UP AUTO of Sparta, WSUS 102.3, WNNJ 103.7, Sparta Stop and Shop, Alpine Roofing, First Hope Bank, Thorlabs, Eastern Propane, Zoom Ziplines, Highland State Bank, Accomplitech Computer Services, NJ Foster, Sussex Bank, Culligan water conditioning, Sparta Station Athletics, Massage Envy of Rockaway, CMG Marketing Agency, Modell's, NJ Foster a Child, Villa Capri II, Bagel Bistro, Lakeland Bank, Cailey Jewelers and Sussexpress LLC. for their generous and continued support of our worthy event allowing us to grow each year.
We hope you enjoy this event and come back each year to participate in the new and improved REV IT UP 5K/10K Festival & FITNESS Expo as it grows in many unique ways.
Andy Ball / Chief Ernie Reigstad
Main Street Events / P.A.L. of Sparta
973-222-8748
Race Day Directions to Registration site: Parking at Station Park off of Rt 517 or 38 Station Rd across from Glen Rd. Must access Station Rd at Kids Castle side of Station Rd off Rt 517.
38 Station Rd
Sparta NJ, 07871
(973) 222-8748

FROM THE SOUTH:
Garden State Parkway or NJ Turnpike to Rt. 287 North to Rt. 80 West (*) to Rt. 15 North (Exit 34B) for 12 miles to Rt. 517 South (2nd Sparta Exit). Right at end of ramp, go under railroad bridge to traffic light. Follow to either first or second station park entrance. Early racers may find parking at the P.A.L. Sports Complex 300 yards beyond the main entrance to station park.
FROM THE EAST:
Follow South directions from (*)
FROM THE WEST:
Rt.80 East to Exit 19 (Rt. 517 North - Hackettstown/Andover Exit). At top of ramp turn right onto Rt. 517 North. Follow Rt. 517 North to Andover (crossing Rt. 206 and turning right at light by the Andover Inn and then left at the 3 way STOP - this is all Rt. 517). After 3 way STOP sign, you will go about 5 miles to a traffic light. At light, turn right and go up hill, passing through a major intersection/Sparta Methodist Church....Station Rd/Park will be first left after you pass under railroad tressel
The Sparta P.A.L. offers rentals and variety of basketball and volleyball programs for kids.
Athletes experience success through sports facilitating acceptance leading to opportunities for friendship and inclusion in sports and social activities.
Trophies for the TOP 3 Overall Male & Female 5K & 10K Participants
TOP 3 Largest & Team Prizes - Team Applications must be received by April 22nd
Teams must be presented by 5 or more runners or walkers. Also Rev It Up Auto shirts and Therapeutics Unlimited glass mugs
Over 120 CUSTOM Individual age group medals. 7 yrs through 80+ (10 Yr Age Groups for 5K and 10K)
Finisher medals for Rev It Up Run for fun.
If you have any questions about this race, click the button below.
Questions?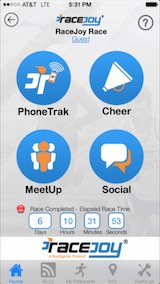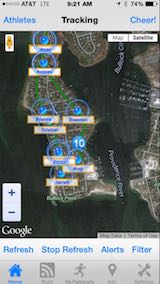 Free Live Tracking and Progress Alerts on Race Day!
(Race organizers are providing this as an included service.)
Make sure you download the RaceJoy mobile app for live phone tracking at the REV IT UP! 5K /10K online closes 11:59 p.m. Thurs.
Carry your phone and use RaceJoy to add to your race experience with these key features:
GPS Progress Alerts
Receive GPS-based progress alerts at mile points on the course for current pace and estimated finish time.
Post to your Facebook and Twitter walls.
Have friends and family track your performance.
Live GPS Tracking
Supporting spectators can track your blue dot moving along the course from home or at the race site.
NearMe proximity alerts notify spectators when you are drawing near.
Find each other using RaceJoy's MeetUp tool.
Send-a-Cheer
Receive fun, motivational audio cheers from your supporting fans.
Start sending cheers to others doing the race at any time.
The REV IT UP! 5K /10K online closes 11:59 p.m. Thurs is sponsoring RaceJoy to provide participants and spectators these features for free (normally a 99 cents upgrade fee for both the participant and spectator).
Note:
- Participant must carry phone
- No official race timing information is provided for this race in RaceJoy

Prerace Pasta Party & Packet Pickup
Pre Race Pasta Party & Packet Pickup sponsored by Villa Capri II will be available at 38 Station Rd., Sparta P.A.L. building Friday April 24 from 5 pm-8 p.m. Race Day Registration will be open Saturday from 8:00 a.m. - 9:15 a.m. Guests without bib number are $5 each for child or adult.