The EQT Pittsburgh 10 Miler course takes participants on a scenic tour of Pittsburgh through historic and charismatic neighborhoods. The start line, located near Station Square, sits between the Monongahela River and the Duquesne Incline, a century-old cable car that travels to one of the best views of Downtown. Participants will travel through some of the City's well-known neighborhoods including the West End, North Side, Lawrenceville and Strip District. The course will then take participants to a finish line in the heart of Downtown Pittsburgh. Please visit the race website for additional details.
2-Person Relay
The course is divided into two legs for this 2-person relay challenge. Each leg is not necessarily the same distance so make sure you choose the right person for each leg of the race. Compete with your teammate against other relay teams for the fastest male, female and co-ed relay in the 10Miler

Relays must have 2 participants to qualify for awards. The first teammate to register and create the relay team will pay the registration fee.

$70 May 11 – July 20, 2016
$90 July 21 – August 24, 2016
$110 August 25 – September 28, 2016
$130 September 29 – October 30, 2016

Team Challenge Presented by FedEx Ground
Each participant runs 10-miles in this team challenge. Compete for the title "Fastest 10 Miler Team in Pittsburgh." If you're in it just for the fun, your team can still win "The Most Popular Team" contest.

Teams must have a minimum of 3 participants to qualify for awards. Team captains will create the team and pay the team registration fee.

Team Registration Rates
$200 May 11 – July 20, 2016
$240 July 21 – August 24, 2016
$285 August 25 – September 28, 2016
$335 September 29 – October 30, 2016
City streets, police officers and support are contracted for specific times and cannot be extended. All participants must adhere to a 15:00 minute/mile pace. If you cannot adhere to the scheduled pace, you will be asked to move to a sidewalk so traffic can resume. If you choose to continue after the course has reopened, there will be no medical support, fluid stations or course marshals at intersections and the course will no longer be marked. Participants after that time will not be guaranteed a time or medal.
510 W Station Square Dr
Pittsburgh, PA US 15219
USA Track and Field certified course
No refunds or deferments of entry fees.
Minimum age for participants is 14 on race day.
Bicycles, skateboards, scooters, baby joggers, strollers, roller skates and roller blades are not permitted on the course
Headphones (iPods, mp3 players, CDs, tape walkmans, radios, etc.) are discouraged
Fluid and medical aid stations are positioned along the course
Water and Gatorade will be offered at every fluid station
Age category awards will be based on chip time in the following categories: 19 & Under, 20-24, 25-29, 30-34, 35-39, 40-44, 45-49, 50-54, 55-59, 60-64, 65-69, 70-74, 75-79 and 80 & Over
Overall awards will be presented to the top three male and female winners based on gun time
Masters awards will be presented to the top three male and female competitors 40 and over based on gun time
Overall and Masters category winners are not eligible for age category awards
NO REFUND OR DEFERMENT POLICY
There are no refunds or deferments for any Pittsburgh Three Rivers Marathon, Inc. (P3R) events.
If you have any questions about this race, click the button below.
Questions?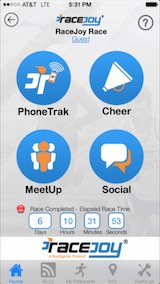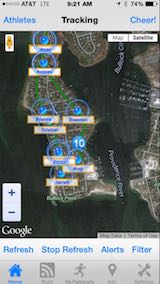 Live Tracking and Progress Alerts on Race Day!
Make sure you download the RaceJoy mobile app for live phone tracking at the EQT Pittsburgh 10 Miler.
Carry your phone and use RaceJoy to add to your race experience with these key features:
GPS Progress Alerts
Receive GPS-based progress alerts at mile points on the course for current pace and estimated finish time.
Post to your Facebook and Twitter walls.
Have friends and family track your performance.
Live GPS Tracking
Supporting spectators can track your blue dot moving along the course from home or at the race site.
NearMe proximity alerts notify spectators when you are drawing near.
Find each other using RaceJoy's MeetUp tool.
Send-a-Cheer
Receive fun, motivational audio cheers from your supporting fans.
Start sending cheers to others doing the race at any time.
Note:
- 99 cents per race upgrade fee for both participant and spectator
- Participant must carry phone
- No official race timing information is provided for this race in RaceJoy

NEW FOR 2016: When you register for the EQT Pittsburgh 10 Miler, $10 of your registration will benefit five organizations that are making a difference in our community. Go the extra mile and fundraise for one of these great causes during your training for the 10 miler. View the list of our official charities and their contact information here.
Like this page and invite your friends on Facebook.