500 Metcalf St
Conroe, TX US 77301
The Woodforest Charity Run is a family friendly event that takes place in scenic downtown Conroe. The 1 mile Fun Run begins at 7:15 am followed by 10K starting at 7:40 am and then 5K at 8:00 am ending with the Barkley Shoe dash at 9:00 am. After the races, enjoy a family friendly environment in Heritage Place Park until 11:00 am that includes refreshments, music and fun jumps and sno cones for the kids. Award ceremony begins at 9:15 am.
All net proceeds will benefit the Woodforest Charitable Foundation.
The Woodforest Charitable Foundation was founded in 2005 by Woodforest Bank.
Primary purpose is to provide funding to qualifying 501(c)(3) charities in the communities that are serviced by Woodforest.
Programs areas focus on social services.
Packet Pickup Information
Luke's Locker (Market Street)
9595 Six Pine Dr. Suite 1060
The Woodlands, TX 77380
Thursday, September 15; 10am-7pm and Friday, September 16; 10am-7pm
If you have any questions about this race, click the button below.
Questions?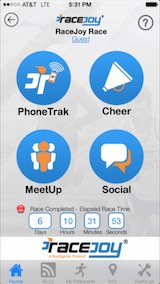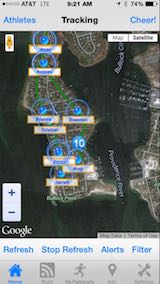 Live Tracking and Progress Alerts on Race Day!
Make sure you download the RaceJoy mobile app for live phone tracking at the Woodforest Charity Run.
Carry your phone and use RaceJoy to add to your race experience with these key features:
GPS Progress Alerts
Receive GPS-based progress alerts at mile points on the course for current pace and estimated finish time.
Post to your Facebook and Twitter walls.
Have friends and family track your performance.
Live GPS Tracking
Supporting spectators can track your blue dot moving along the course from home or at the race site.
NearMe proximity alerts notify spectators when you are drawing near.
Find each other using RaceJoy's MeetUp tool.
Send-a-Cheer
Receive fun, motivational audio cheers from your supporting fans.
Start sending cheers to others doing the race at any time.
Note:
- 99 cents per race upgrade fee for both participant and spectator
- Participant must carry phone
- No official race timing information is provided for this race in RaceJoy

Sponsorship Opportunities
2016 Woodforest Charity Run Sponsorships Now Available
Click the document for details
Questions? Email woodforestcharityrun@woodforest.com