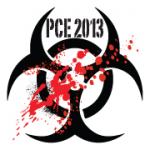 Saturday October 19, 2013
Get Directions
This is a service fee for processing your race application.
The Provo Canyon Escape 5K
Online Registration is Closed
Online Registration has Ended.
Multi-Person Pricing for The Provo Canyon Escape 5K
June 7, 2013 @ 10:00pm MDT - October 19, 2013 @ 9:59pm MDT
Group Discount (6 - 20 Registrants): $5.00 Discount per Registrant
Provo Canyon Road
Provo, UT US 84604
How fast are you when running for your life? Find out as zombies chase you down Provo Canyon. See if you can survive the Provo Canyon Escape
If you have any questions about this race, click the button below.
Questions?