Ottawa Lake State Park
Dousman, WI US 53118
The 10th annual Tri-ing for Children's triathlon is presented by Endurance House of Delafield and will be held at Ottawa Lake State Park in the beautiful Southern Kettle Morain Forest. A swim in Ottawa lake is followed by a bike course through the gently sloping hills of the forest. A portion of your registration fee and all fundraising proceeds benefit Tri-ing for Children's, Inc., a non-profit charity for children's hospitals.
Registration must be received by midnight Monday July 10th to be guaranteed a t-shirt and finisher medal. This event sold out last year so don't delay in registering!
If you have any questions about this race, click the button below.
Questions?
Are you looking to complete your first triathlon? Find out why Endurance House is the leader in area clubs and team training! With coach Mark Caballero at the lead, we will teach and train you effectively in swim instruction, run training, bike coaching, and everything else you need to complete your first triathlon! Also included in your training is a 15% in store discount, a workshop series, race discounts, team training, training plans, and more! Take advantage of this special deal offered exclusively through Race Day Events for the Triing for Children's triathlon.
Packet Pick-up Information
Early Packet Pick-up will be held at Endurance House of Delafield located at 2736 Hillside Drive Delafield, WI 53018 on Friday July 28th from 2pm-5pm and Saturday July 29th from 1pm-4pm.
Same day packet pick-up on Sunday before the race at Ottawa Lake State Park. ***We highly encourage you to pick up your packets early as this race sells out and lines get long race morning.***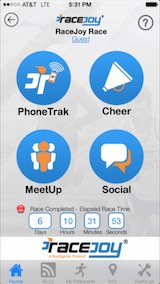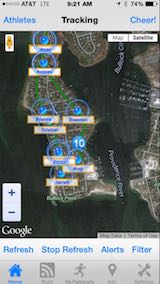 Free Live Tracking and Progress Alerts on Race Day!
(Race organizers are providing this as an included service.)
Make sure you download the RaceJoy mobile app for live phone tracking at Tri-ing For Children's Triathlon.
Carry your phone and use RaceJoy to add to your race experience with these key features:
GPS Progress Alerts
Receive GPS-based progress alerts at mile points on the course for current pace and estimated finish time.
Post to your Facebook and Twitter walls.
Have friends and family track your performance.
Live GPS Tracking
Supporting spectators can track your blue dot moving along the course from home or at the race site.
NearMe proximity alerts notify spectators when you are drawing near.
Find each other using RaceJoy's MeetUp tool.
Send-a-Cheer
Receive fun, motivational audio cheers from your supporting fans.
Start sending cheers to others doing the race at any time.
Tri-ing For Children's Triathlon is sponsoring RaceJoy to provide participants and spectators these features for free (normally a 99 cents upgrade fee for both the participant and spectator).
Note:
- Participant must carry phone
- No official race timing information is provided for this race in RaceJoy