University of Toledo
2801 W Bancroft
Toledo, OH US 43606
Mercy Health Glass City Marathon
One of the fastest marathon courses in the Midwest, The Mercy Health Glass City Marathon (GCM) course will begin on Bancroft Street in front of the University of Toledo bell tower, circle campus before heading West into beautiful Ottawa Hills. The course then leads you to the area's finest Metropark system utilizing the University Parks bike Trail. A tour through Sylvania leads you to Olander Park, passing the statue of Sy Mah, then back down the bike trail to a short tour of the UT campus concluding with the finish in the newly renovated Glass Bowl.
Events include the Mercy Health Glass City Marathon, Yark 5-person Marathon Relay, Owens Corning Half Marathon, and companion Medical Mutual 5K and Findley Davies Kids Marathon.
All courses are USATF certified.
Schedule of Events & Start Times
Saturday, April 22, 2017
• Registration/Packet Pick-Up & Expo -- 9:00am
• Kids Marathon – 12:00 pm
• Registration & Expo closes – 5 pm
Sunday, April 23, 2017
• Race Day Packet Pick-up -- 5:30am
• Marathon, Half Marathon, & relay team start -- 7am
• 5K start – 7:15 am
• Marathon Course is supported from 7 am – 1 pm
• Post Race Party in parking lot 10
If you have any questions about this race, click the button below.
Questions?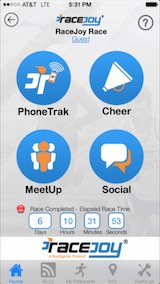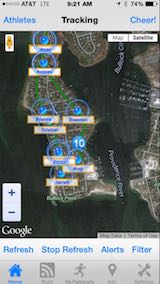 Free Live Tracking and Progress Alerts on Race Day!
(Race organizers are providing this as an included service.)
Make sure you download the RaceJoy mobile app for live phone tracking at the Mercy Health Glass City Marathon.
Carry your phone and use RaceJoy to add to your race experience with these key features:
GPS Progress Alerts
Receive GPS-based progress alerts at mile points on the course for current pace and estimated finish time.
Post to your Facebook and Twitter walls.
Have friends and family track your performance.
Live GPS Tracking
Supporting spectators can track your blue dot moving along the course from home or at the race site.
NearMe proximity alerts notify spectators when you are drawing near.
Find each other using RaceJoy's MeetUp tool.
Send-a-Cheer
Receive fun, motivational audio cheers from your supporting fans.
Start sending cheers to others doing the race at any time.
The Mercy Health Glass City Marathon is sponsoring RaceJoy to provide participants and spectators these features for free (normally a 99 cents upgrade fee for both the participant and spectator).
Note:
- Participant must carry phone
- No official race timing information is provided for this race in RaceJoy

Make Your First Time in Toledo
GCM RUNNERS GET MORE
At the Mercy Health Glass City Marathon, we like to take care of our runners and show them special recognition. In 2016 we developed a package to celebrate all of our previous winners, and another to thank everyone taking part in our 40th anniversary run.
This year we are developing a perks package especially for all first time marathoners. If this will be your first full marathon (26.2 miles), say so during registration and we'll have some special benefits waiting for you on race weekend.
YOU'LL RUN FASTER IN TOLEDO
The Toledo Roadrunners Club is proud to present the Mercy Health Glass City Marathon's 41st running
on Sunday, April 23, 2017 at the University of Toledo.
Be part of Northwest Ohio's largest springtime running event. Finish in the Glass Bowl and become one of the 8,250 to say "We Run Toledo" together at GCM.
FIRST TIME MARATHONERS
Personal Concierge Service at Expo

Elite Athlete Escort at Expo

Special Recognition Package

VIP Status at Post-race Party

More…