Camp Roberts
US - 101 Exit #244
San Miguel, CA US 93451
17th annual meditative and serene run and is a Boston Qualifier (among others). All races are run on the grounds of historic Camp Roberts Army National Guard Reservation, just north of San Miguel, California. Out-and-back course on paved road with dirt and packed gravel shoulders. Flat to gentle rolling hills, with breathtaking views of oak-studded hillsides, Salinas and Nacimiento Rivers and abundant Central Coast wildlife. Some compare course to a trail run. Start line is at 620' in front of gymnasium and rises to 997' at the marathon turn-around spot. You will truly enjoy this event!
Child care available. Museum and annex open during race and some militry vehicles for viewing (perhaps even a ride).
SECURITY NOTE: To enter this fedaral facility you will need DHS REAL ID approved documents, car registration, and proof of insurance (rental agreement works if you have a rental). Most state drivers licenses are now compliant - check DHS.gov website if you are in doubt. Foreign nationals will need to send copies of passport, photo id/drivers license to the base security by February 10, 2017 for vetting.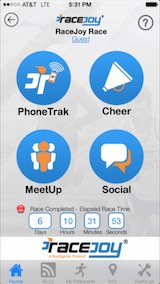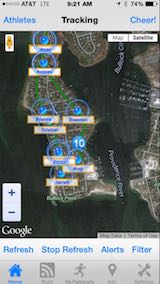 Free Live Tracking and Progress Alerts on Race Day!
(Race organizers are providing this as an included service.)
Make sure you download the RaceJoy mobile app for live phone tracking at the Buzz Marathon.
Carry your phone and use RaceJoy to add to your race experience with these key features:
GPS Progress Alerts
Receive GPS-based progress alerts at mile points on the course for current pace and estimated finish time.
Post to your Facebook and Twitter walls.
Have friends and family track your performance.
Live GPS Tracking
Supporting spectators can track your blue dot moving along the course from home or at the race site.
NearMe proximity alerts notify spectators when you are drawing near.
Find each other using RaceJoy's MeetUp tool.
Send-a-Cheer
Receive fun, motivational audio cheers from your supporting fans.
Start sending cheers to others doing the race at any time.
The Buzz Marathon is sponsoring RaceJoy to provide participants and spectators these features for free (normally a 99 cents upgrade fee for both the participant and spectator).
Note:
- Participant must carry phone
- No official race timing information is provided for this race in RaceJoy