3200 SE 17th Street
Ocala, FL US 34471
Strong traditions build strong communities, and at the Y, that's exactly what we're all about. Our 21st Annual Turkey Trot 5K is the largest race in Ocala, with more than 2,000 runners. Our Thanksgiving tradition includes a 5K Walk/Run, a 10K Run, an Outdoor Cycling Class, an Outdoor Youth Dodgeball Tournament, along with activities for the whole family.
***NEW THIS YEAR: GENDER-SPECIFIC SHIRT SIZES AVAILABLE***
If you have any questions about this race, please contact the race director at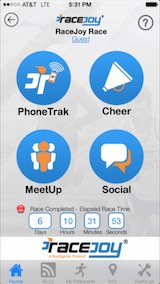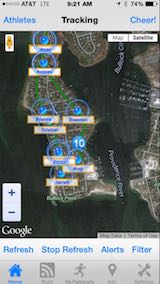 Live Tracking and Progress Alerts on Race Day!
Make sure you download the RaceJoy mobile app for live phone tracking at the YMCA Turkey Trot 5K & 10K.
Carry your phone and use RaceJoy to add to your race experience with these key features:
GPS Progress Alerts
Receive GPS-based progress alerts at mile points on the course for current pace and estimated finish time.
Post to your Facebook and Twitter walls.
Have friends and family track your performance.
Live GPS Tracking
Supporting spectators can track your blue dot moving along the course from home or at the race site.
NearMe proximity alerts notify spectators when you are drawing near.
Find each other using RaceJoy's MeetUp tool.
Send-a-Cheer
Receive fun, motivational audio cheers from your supporting fans.
Start sending cheers to others doing the race at any time.
Note:
- 99 cents per race upgrade fee for both participant and spectator
- Participant must carry phone
- No official race timing information is provided for this race in RaceJoy

KIDS EVENT
Check out our registration page for information about our Youth Dodgeball Tournament for kids ages 4 to 15! T-shirts are included.
PACKET PICKUP AND PRE-RACE EXPO:
WHEN: Wednesday, Nov. 23
TIME: 9 a.m. to 7 p.m.
WHERE: YMCA
EXPO: Join us for our Pre-Race Expo during Packet Pickup and Race-Day Expo before and after the Turkey Trot.
*If you are unable to attend Packet Pickup on Wednesday, you can pick up your packet on Race Day starting at 6 a.m.
RACE DAY GIVEAWAYS:
We are planning some great Race-Day Giveaways with our Sponsors this year! Make sure you stick around after the race for your chance to win!
PARKING:
Please note that there will be no parking in the YMCA lot. Parking will be available at Hillcrest Elementary School, Ocala Christian Academy and the Health Department.
NOT A MEMBER?
We will have membership representatives available to tour you around the Y and walk you through all of our changes from our $7 million facility expansion. Plus, we'll fill you in on our BLACK FRIDAY SPECIAL!
BIG HAMMOCK RACE SERIES
We are proud to be Race #3 in the Big Hammock Race Series! Want to earn more points? Consider running the 10K. Check out the awesome perks of being a series participant at BigHammockRaceSeries.com.
Like this page and invite your friends on Facebook.