Event
Time
Price
Details
M23.1K Run

Time

8:30AM EDT

-

12:00PM EDT

N/A
M23.1k Relay

Time

8:30AM EDT

-

12:00PM EDT

N/A
Robinson Elementary School
11801 120th Avenue
Grand Haven, MI US 49417
Ottawa County is thrilled to be partnering with the Michigan Department of Transportation to offer the Michigan's Credit Unions M23.1k Run on October 1, 2016. The M231 Highway stretches seven miles through the spectacular, rolling countryside and over the Grand River in West Michigan. Runners can choose from a 23.1k run or relay offering 5k and 10k legs split over the long half marathon CLOSED course. The highway will be closed to traffic from approximately 5AM - 1PM. Details, FAQs and more at miOttawa.org. You can also search our hashtag, #m231k, on social media for announcements.
The race will be capped at 500 total runners and the price goes up progressively until race day. There will NOT be registration on the day of the race. You can register at packet pick-up on (Sept 29) Thursday from 1-5PM and (Sept 30) Friday from 3-6PM at the Filmore Complex, 12220 Fillmore, West Olive by cash or check only. You can pick up your bib or shirt the day of the race. Note that those who pick up their bibs and shirts on Thursday or Friday can enter a drawing to win a trucker hat or visor!
Proceeds from the run will go toward Ottawa County's non-motorized pathway system, specifically the Grand River Greenway Trail, North Bank Trail and Spoonville Trail. An extensive system of paved trails benefits residents and visitors alike. Paved trails through Ottawa County provide: opportunities for fitness and family recreation; environmental benefits; transportation corridors; and economic benefits to the community.
Be sure to purchase your post-race buffet tickets and event swag during your registration!
Thank you to the generous sponsors who have provided dollars, services or goods:
Michigan's Credit Unions | Chemical Bank | Spring Lake Fitness & Aquatic Center | Ottawa County | WGHN Radio | Michigan Department of Transportation | Ottawa County Sheriff's Office | EcoTrek Fitness | Delta Dental | Priority Health | Merle Boes | ImageSoft | Presidio | Gordon Water Systems | Governmental Consultant Services, Inc. (GCSI) | Grand Armory Brewing | The Pipeline Smokehouse | M & S Storage | fairlife | JR Automation Technologies | Give 'Em A BRAKE Safety | Michigan Milk Producers Association | Joe Gee Photography | Meijer | Kerkstras
If you have any questions about this race, please contact the race director at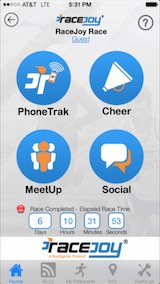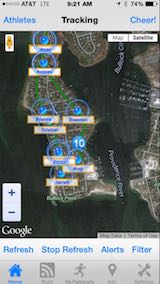 Live Tracking and Progress Alerts on Race Day!
Make sure you download the RaceJoy mobile app for live phone tracking at the M23.1k Run & Relay.
Carry your phone and use RaceJoy to add to your race experience with these key features:
GPS Progress Alerts
Receive GPS-based progress alerts at mile points on the course for current pace and estimated finish time.
Post to your Facebook and Twitter walls.
Have friends and family track your performance.
Live GPS Tracking
Supporting spectators can track your blue dot moving along the course from home or at the race site.
NearMe proximity alerts notify spectators when you are drawing near.
Find each other using RaceJoy's MeetUp tool.
Send-a-Cheer
Receive fun, motivational audio cheers from your supporting fans.
Start sending cheers to others doing the race at any time.
Note:
- 99 cents per race upgrade fee for both participant and spectator
- Participant must carry phone
- No official race timing information is provided for this race in RaceJoy

The course begins at Robinson Elementary School. Runners will line up in the playground and run through a trail behind the school. It leads out to M231 where they will turn south (left). From there, they will run to M45 and then u-turn back trekking to M104. At M104 runners will again u-turn and run back to the trailhead and then the school to finish. (This is a slight change from 2015. Running PAST that trailhead at the end was just downright torture.) A course map will be available soon. It will also include the two relay exchange zones.
Register by September 1 to ensure your personalized bib and quarter-zip shirt. We are presenting our runners with high quality quarter-zips in addition to finisher medals. The shirts are 100% polyester with moisture management and antimicrobial properties. We are also offering Items for purchase including trucker hats and visors. Add them on during your registration. If you fail to add swag and change your mind, no problem. Come back later and purchase them from the store. Everyone will receive their purchases at packet pick-up. And you need not be a runner to make a purchase. Superfans can visit the store and make purchases, too! Remember, no guarantees on shirt sizes and personalized bibs come September 1.
Get a Refund By Referring Friends
After you register you can refer three or more participants and get a refund of up to $5. Just share your unique registration link that is generated via the social sharing buttons. We keep track and will automatically refund you once our system tracks enough registrations back to your link! Cha-ching!