Event
Time
Price
Details
50 Mile Race

Time

11:59PM CDT

-

3:00PM CDT

Price

$95

Price increases June 5, 2017 at 11:59pm CDT
Start and Finish line will be at the Quik Trip Plaza on the west side of Riverside Drive (just east of the river). GPS coordinates are 36.104365, -95.984089
Start finish - QuikTrip Plaza - 41st & Riverside Drive
** New for 2017 - Tatur Racing is proud to announce what we think is the first race in Tulsa to employ true GPS tracking of each participant for the entire course. With our new Race Joy tracking, Spectators, family, crew, pacers etc will be able to see a blue dot of the runner as he/she progress along the coure. We hope you enjoy this feature and the peace of mind it gives family and friends.
Course - Beautiful course along the Riverside paved trails and includes a trip up to scenic Turkey Mountain.

Time Limit - 15 hours - Race ends at 3 P.M. on July 4th, our nations birthday.

Flat & fast course - 100% paved running trail

The fifth annual Tatur's Midnight Madness 50 Mile Road Race is a celebration of health and fitness that will challenge runners to take their physical and mental fitness to the next level.
We invite you to come to Tulsa Oklahoma and participate in the state's premiere 50 mile race. This unique race starts at 11:59 p.m. in Tulsa's newly revamped River Parks Trail System.
The course is mostly flat and fast, yet even night time July temperatures in Oklahoma routinely hit 85° and can feature high humidity. The course consists of five, 10 mile out and backs (five miles out and five miles back)
If you have done a marathon before, this would be a fantastic "first time" ultramarathon since the generous cut-off time of 15 hours allows an entrant to finish as long as he/she can maintain an 18 min/mile pace.
Rules/Frequently Asked Questions
General Info
No early starts. All participants will start exactly at midnight.

Strict 15 hour time limit. of 15 hours/3 P.M. (18 min/mile pace)

Cut-off time for finishing the fourth loop, will be at 12:00pm (noon). Any runner who crosses the start/finish line after noon. (clock time) will have their race tag pulled and strongly advised to stop running. Results will NOT be posted for runners who do not meet the fourth loop cut-off time. This is a STRICT CUT-OFF TIME. If a runner who finishes their fourth loop one second past Noon, they will not be allowed to continue as a race entrant. Please do not try to persuade a race official or volunteer to allow you to do so.

If you drop out of the race, make sure that a race official at an aid station is notified. Failure to do this could result in a search and rescue, which could be at runner's expense. Please be aware that if you drop out of the race at a location other than a manned aid station , you could be waiting for a while for transportation to the start finish.

Runner Rules
All participants (pacers included) must keep his/her race number visible at all times. If you believe you will change shirts/jackets during the race, it is advised that you attach your number to your shorts.

Any entrant who gets off course for any reason, must re-enter at the same location that he/she left the course. failure to do so will result in disqualification.

Littering on the course will result in immediate disqualification. Aid stations will have ample garbage bags, and River Parks has trash receptacles distributed along the route. Littering includes Gu tear-off tabs, banana peels, candy wrappers and other trash (organic or not).

Although the lights along the trail should be on, we require all runners to wear a headlamp or carry a flashlight for the entire first loop. After the first loop if you feel you do not need it, you can leave it in your drop bag at the start finish area. The moon will be at 75%


Pacer Rules
Pacers will be allowed after the runner has completed two full circuits (20 miles)

Runners over the age of 60 may have a pacer for the entire race.

One pacer per runner at any given time.

Pacer must wear assigned pacer race number and it must be visible at all times.

Pacers do not pay an entry fee and are welcome to all of the aid that the runner receives.

Pacer may not provide ANY physical support at any time other than at the official aid stations and the immediate S/F area. This included lending a hand to a runner who has fallen, massaging a leg cramp, lancing a blister etc.

Pacers may not "Mule" for a runner at any time. Muling is carrying and/or supplying water, clothing, medical supplies or any other type of aid to the runner.

Runners may only receive aid at the start/finish line or at an aid station. Aid may be given by any crew/family member or pacer.

Medical personnel, the race director, and aid station captains have the right to pull a runner if they feel the runner may be a danger to himself/herself.

Crew Rules
A crew member is simply a friend or family member that can help supply his/her runner with motivation, food, first aid, advice etc.

A crew member is prohibited from running with his/her runner.

Crew members will only be allowed to provide aid at the official aid stations and S/F area

Crew members may eat or drink from the aid stations.
FAQ's
Official sunrinse will be 5:13am

We do allow refunds although we would prefer that you transfer your entry fee to the 2018 edition of the Midnight Madness.

Parking is limited to about 80 vehicles at the Start finish line lot. However there is neighborhood parking and we ask that you please be quiet as homeowners may be sleeping.
If you have any questions about this race, click the button below.
Questions?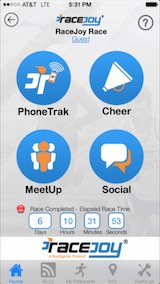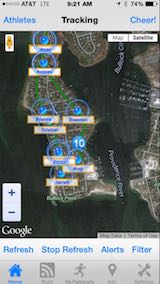 Free Live Tracking and Progress Alerts on Race Day!
(Race organizers are providing this as an included service.)
Make sure you download the RaceJoy mobile app for live phone tracking at Tatur's Midnight Madness 50 Mile Road Race.
Carry your phone and use RaceJoy to add to your race experience with these key features:
GPS Progress Alerts
Receive GPS-based progress alerts at mile points on the course for current pace and estimated finish time.
Post to your Facebook and Twitter walls.
Have friends and family track your performance.
Live GPS Tracking
Supporting spectators can track your blue dot moving along the course from home or at the race site.
NearMe proximity alerts notify spectators when you are drawing near.
Find each other using RaceJoy's MeetUp tool.
Send-a-Cheer
Receive fun, motivational audio cheers from your supporting fans.
Start sending cheers to others doing the race at any time.
Tatur's Midnight Madness 50 Mile Road Race is sponsoring RaceJoy to provide participants and spectators these features for free (normally a 99 cents upgrade fee for both the participant and spectator).
Note:
- Participant must carry phone
- No official race timing information is provided for this race in RaceJoy

Start and Finish line will be at the Quik Trip Plaza on the west side of Riverside Drive (just east of the river). GPS coordinates are 36.104365, -95.984089
Open in External Application
Join this event and invite your friends on Facebook.