The Tweetsie Trail Trailhead
Legion Street & Alabama Street
Johnson City, TN US 37601
June 24, 2017 6:30 am-10:00 am
RunTheTweetsie is early to "beat the heat". This time was well received last year, so the 6:30 am start will remain the same this year.
This early morning Half Marathon and 10K will be run on Johnson City, Tennessee's premiere Rails to Trails project- The Tweetsie Trail. All finishers of either event will receive a great t-shirt and medal.
The Half Marathon will start at 6:30 am at the Tweetsie Trail trailhead on Legion Street and the runners will run two 6.55 mile loops with the turnaround slightly past Happy Valley Road. There is a strict registration limit, as well as a 3.5 hour time limit, for the half marathon.
The 10K will leave 30 minutes later (7:00 am). The 10K runners will complete one loop of the course, which will be slightly over a 10K.
The Tweetsie Trail will be an open course, so be courteous to other users of the trail. Please be aware of bikes, animals and non-race runners and walkers. Earbuds and strollers are allowed during the race, but are discouraged due to the open course.
All runners must be finished by 10:00AM.
***All RunTheTweetsie participants and volunteers must park across the street in parking lot adjacent to Cardinal Park designated for the Tweetsie Trail or in the public parking lot located across from the Legion Street pool, at the corner of State of Franklin and Legion Street. All parking areas are within 0.1-0.2 miles of the starting line. It is imperative that the Alabama Street parking area be left open for cyclists, runners, and walkers who also want to enjoy the trail.****
Awards:
All finishers will receive a Finisher's Medal.
Top 3 Male Overall Awards in the Half Marathon and 10K
Top 3 Female Overall Awards in the Half Marathon and 10K
Top 3 Male and Female in Each 10 Year Age Group for Half Marathon and 10K
Correct shirt sizes only guaranteed to participants registered by June 1, 2017.
Due to pre-registration costs, we are unable to provide refunds.
If you have any questions about this race, click the button below.
Questions?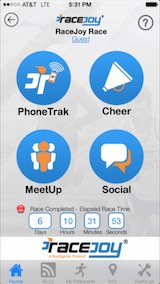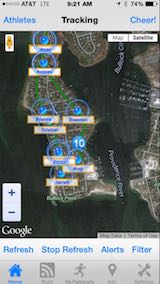 Free Live Tracking and Progress Alerts on Race Day!
(Race organizers are providing this as an included service.)
Make sure you download the RaceJoy mobile app for live phone tracking at the Run The Tweetsie.
Carry your phone and use RaceJoy to add to your race experience with these key features:
GPS Progress Alerts
Receive GPS-based progress alerts at mile points on the course for current pace and estimated finish time.
Post to your Facebook and Twitter walls.
Have friends and family track your performance.
Live GPS Tracking
Supporting spectators can track your blue dot moving along the course from home or at the race site.
NearMe proximity alerts notify spectators when you are drawing near.
Find each other using RaceJoy's MeetUp tool.
Send-a-Cheer
Receive fun, motivational audio cheers from your supporting fans.
Start sending cheers to others doing the race at any time.
The Run The Tweetsie is sponsoring RaceJoy to provide participants and spectators these features for free (normally a 99 cents upgrade fee for both the participant and spectator).
Note:
- Participant must carry phone
- No official race timing information is provided for this race in RaceJoy

Join this event and invite your friends on Facebook.