Event
Date
Time
Price
Details
Kids' Races

Date

05/27

Time

6:00PM EDT

N/A
5 Mile Race

Date

05/28

Time

8:30AM EDT

N/A
Ocean Ave & Sussex Ave
Spring Lake, NJ US 07762
Welcome to the 40th Anniversary Spring Lake Five Mile Run, Inc. In 1977, five hundred runners lined up for the first Spring Lake Five. Thanks to your help, the race has grown into one of the country's biggest and best running events.
The Spring Lake Five Mile Run is organized by the Spring Lake Five Race Committee and Race Director Phil Hinck, under the guidance of the Friends of the Spring Lake Five Inc., a not-for-profit organization. After payment of Race expenses, all proceeds from the Race are donated to charitable organizations or allocated for town projects. Since 2002, the race has raised over $1,000,000 for numerous volunteer groups that support the event, Spring Lake Recreation and other charitable organizations. Funds were also used in conjunction with the Borough of Spring Lake for work on extending the Spring Lake Boardwalk to enhance the safety of runners and walkers at its north end terminus.
We expect the 2016 race to reach its entry limit quickly. In order to maintain the quality of the event, this years race entries will be strictly limited. Please enter early to insure yourself a spot!
If you have any questions about this race, click the button below.
Questions?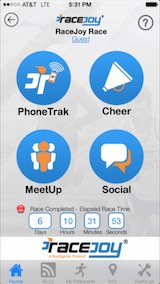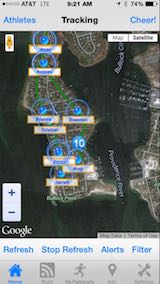 Free Live Tracking and Progress Alerts on Race Day!
(Race organizers are providing this as an included service.)
Make sure you download the RaceJoy mobile app for live phone tracking at The Spring Lake 5 Mile Run.
Carry your phone and use RaceJoy to add to your race experience with these key features:
GPS Progress Alerts
Receive GPS-based progress alerts at mile points on the course for current pace and estimated finish time.
Post to your Facebook and Twitter walls.
Have friends and family track your performance.
Live GPS Tracking
Supporting spectators can track your blue dot moving along the course from home or at the race site.
NearMe proximity alerts notify spectators when you are drawing near.
Find each other using RaceJoy's MeetUp tool.
Send-a-Cheer
Receive fun, motivational audio cheers from your supporting fans.
Start sending cheers to others doing the race at any time.
The Spring Lake 5 Mile Run is sponsoring RaceJoy to provide participants and spectators these features for free (normally a 99 cents upgrade fee for both the participant and spectator).
Note:
- Participant must carry phone
- No official race timing information is provided for this race in RaceJoy

Like this page and invite your friends on Facebook.