AN EVENT FOR THE WHOLE FAMILY!
The 2nd Annual Bakersfield Marathon is a USATF-certified full marathon, half marathon, 2-person half-marathon relay and a 5K taking place on November 12th, 2017. This annual, world-class event features the starting line and finish line celebration on the California State University, Bakersfield campus. Participants will run through dozens of iconic neighborhoods including the Stockdale Financial District, Oleander, Downtown Bakersfield, Westchester, Kern County Museum, Bakersfield College and finally along the Panorama Bluffs before returning to the finish line on the scenic Kern River Parkway.
In addition to giving local runners an opportunity to run a Boston-qualifying marathon in their own backyard, we are excited to welcome runners from across the U.S. and around the world.
Packet pickup is on Saturday, Novemeber 11th where you may take part in our Health and Fitness Expo! Saturday at the Expo is the last day to register for any of the events.
Please note: there will be no raceday registration. Final registration will occur at packet pickup on Saturday, November 11, 2017 between 9AM and 4PM.
RACE AMMENITIES INCLUDE
Gender Specific Short Sleeve Technical Shirt
Custom Finisher's Medallion: Marathon, Half & Half Relay, 5K
Race Joy Participant Tracking
Text Results
Personalized Bib
Pace Teams
17 Water/Aid Stations
USATF Boston Qualifer
Expo at Buck Owens' Crystal Palace
Celebration Beer Garden & Food Trucks
Walker Friendly Course
California State University, Bakersfield
9001 Stockdale Highway
Bakersfield, CA US 93311
If you have any questions about this race, click the button below.
Questions?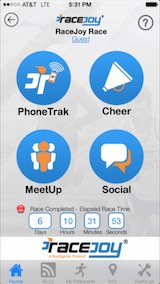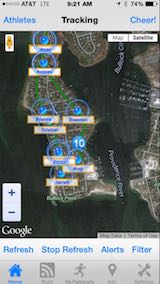 Free Live Tracking and Progress Alerts on Race Day!
(Race organizers are providing this as an included service.)
Make sure you download the RaceJoy mobile app for live phone tracking at the Bakersfield Marathon & Half.
Carry your phone and use RaceJoy to add to your race experience with these key features:
GPS Progress Alerts
Receive GPS-based progress alerts at mile points on the course for current pace and estimated finish time.
Post to your Facebook and Twitter walls.
Have friends and family track your performance.
Live GPS Tracking
Supporting spectators can track your blue dot moving along the course from home or at the race site.
NearMe proximity alerts notify spectators when you are drawing near.
Find each other using RaceJoy's MeetUp tool.
Send-a-Cheer
Receive fun, motivational audio cheers from your supporting fans.
Start sending cheers to others doing the race at any time.
The Bakersfield Marathon & Half is sponsoring RaceJoy to provide participants and spectators these features for free (normally a 99 cents upgrade fee for both the participant and spectator).
Note:
- Participant must carry phone
- No official race timing information is provided for this race in RaceJoy

Like this page and invite your friends on Facebook.